Kipnis finding success with shorter swing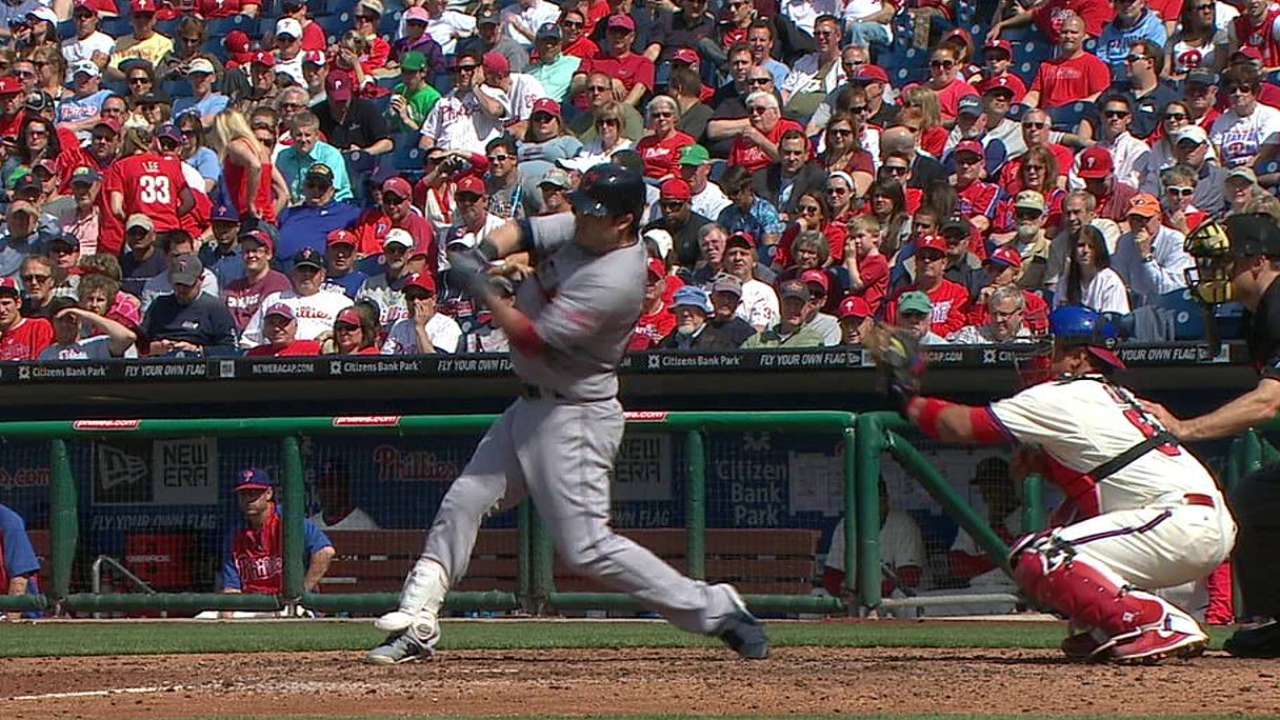 CLEVELAND -- A shorter swing has helped Jason Kipnis dig himself out of his early-season slump. Recently, the Indians second baseman has not only been one of the most potent bats in Cleveland's lineup, but also one of the top hitters in baseball.
Kipnis has been an extra-base hit machine of late, entering Friday's game with the Mariners with a dozen such hits over his past 13 games, dating back to May 3. The second baseman's 12 extra-base hits were the most for any hitter in the Major Leagues over that span.
"I started squaring up the ball more," Kipnis said. "When you put the ball in play a lot more and start squaring it up, a lot more things happen. I started driving it to the gaps and down the lines and, when that happens, it leads to extra-base hits when you come out of the box fast."
In Wednesday's road win over the Phillies, Kipnis went 3-for-4 with one home run, two doubles, three RBIs and one walk. In the process, he became the first Indians second baseman to have at least three extra-base hits, three RBIs and a walk in a game since Joe Gordon accomplished the feat in 1949.
Over his past 13 games heading into Friday's action, Kipnis had hit .303 (16-for-53) with a .356 on-base percentage, a .755 slugging percentage and a 1.111 on-base-plus-slugging percentage. His slugging percentage was the third-highest mark in the Majors in that stretch, and his 40 total bases ranked second in baseball (Texas' Mitch Moreland had 43, dating back to May 3).
During that time period, Kipnis compiled five homers, five doubles, two triples, two stolen bases, 16 RBIs and 11 runs scored. It has been a drastic turnaround for Kipnis, who posted a .189/.265/.270/.535 slash line over his first 18 games, during which he had one home run, three doubles and four RBIs.
"We shortened the swing. We cleaned up the swing," Kipnis said. "That's all. Pretty much the big adjustment that we made was just trying to get the whip action back in it and just short to the ball. So, instead of fouling off pitches that I usually put in play, I'm driving it, and the extra bases are coming."
On Friday, Kipnis continued his recent trend, launching a three-run, walk-off home run in the 10th inning to hand the Indians a 6-3 win against the Mariners.
Jordan Bastian is a reporter for MLB.com. Read his blog, Major League Bastian, and follow him on Twitter @MLBastian. Mark Emery is an associate reporter for MLB.com. This story was not subject to the approval of Major League Baseball or its clubs.