Pitching coach Callaway shaping solid rotation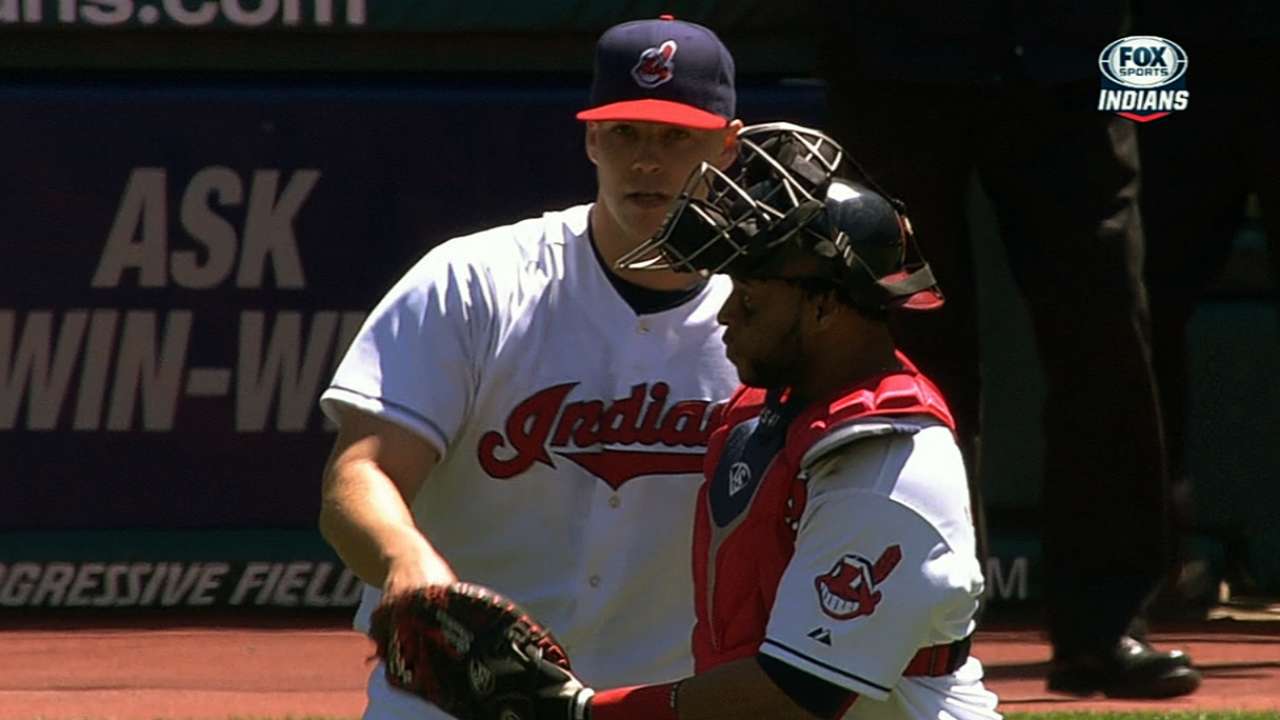 CLEVELAND -- This is the first year that Indians pitching coach Mickey Callaway has been tasked with leading and shaping a Major League staff.
Manager Terry Francona is aware of that fact, but said Callaway resembles a much more seasoned instructor.
Asked to talk about the things Callaway does well in working with pitchers, Francona responded, "How much time do you have?"
"Mickey did a great job in the interview, but then more importantly after the interview, all the things that he said, he has completely lived up to," Francona said. "And it's been exciting for me to watch. I'm proud of him."
The manager and the pitching coach didn't have a connection before Francona took over in Cleveland. Callaway has coached at various levels of the Indians' farm system over the previous three seasons. Last year, he was the club's Minor League pitching coordinator.
"I actually didn't know him," Francona said. "He's very well thought of in the organization. There are some people I know out of the organization that knew him that gave him very high marks."
Francona is certainly pleased with the hire. Callaway's rotation, which was supposed to be an area of vulnerability for the Indians, has helped the club into a first-place tie atop the American League Central entering Friday.
The staff ace, Justin Masterson, is 6-2 with a 3.14 ERA over nine starts, a year after he lost 15 games. Zach McAllister, in his first season as a full-time rotation member, is 3-3 with a 2.68 ERA across seven outings.
And then there are the reclamation projects. Three years removed from a 19-win season, Ubaldo Jimenez has seen tough times in Cleveland but been strong in his last four appearances, going 3-0 with a 2.66 ERA. Scott Kazmir, who hasn't been a rotation regular since 2010, is 2-2 with a 3.68 ERA in his last four starts.
Dating back to the second game of an April 28 doubleheader in Kansas City, the rotation has 12 wins and a 3.17 ERA.
"Our starting pitching has kind of got the kinks out now," Tribe slugger Mark Reynolds said. "They're throwing great for us."
Jordan Bastian is a reporter for MLB.com. Read his blog, Major League Bastian, and follow him on Twitter @MLBastian. Mark Emery is an associate reporter for MLB.com. This story was not subject to the approval of Major League Baseball or its clubs.