Pestano adopting new routine to avoid injury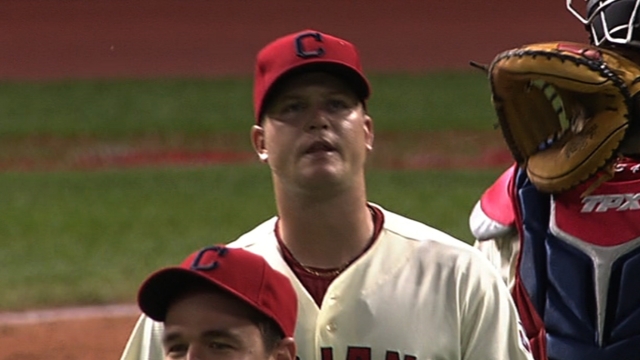 CLEVELAND -- Vinnie Pestano faced a tough situation in his first game back from the disabled list. On Friday night, the Indians setup man toed the rubber against the Mariners in the 10th inning with the score deadlocked.
Pestano would not have wanted it any other way.
"I'm glad there was a high-adrenaline situation," Pestano said. "You just kind of throw [me] right back into the fire."
Pestano got through his inning unscathed and Cleveland went on to capture a 6-3 win in the bottom of the 10th inning. It was a solid return for Pestano, who plans on adopting a new approach to his routine during prolonged stretches without appearing in games.
In the past, Pestano did not throw off a mound during slow periods of work. If he went three or four days without pitching in a game, the right-hander wouldn't throw off the hill in that time. Pestano believes, for the first time, the down time between outings might have contributed to the right elbow tendinitis that led to his recent stay on the 15-day DL.
"They think that may have been one of the reasons the elbow flared up," Pestano said. "If the situation arises where I go three days without throwing, I'll probably get off a mound, even if it's not in a game. It's just to keep throwing more consistently, so my arm doesn't have enough time to kind of regress.
"That's something I'm going to switch up going forward. ... It'll be able to stretch the arm, stretch that tendon, and make sure it's staying somewhat warm, even though there might be a lull or a slow stretch."
Pestano, 28, set a single-season team record with 36 holds last season, and the righty has been solid out of the starting blocks this year. Through nine appearances, the right-hander has gone 1-0 with a 2.00 ERA with nine strikeouts in nine innings.
Pestano said his elbow felt fine on Saturday.
"Not too bad. It's going to take me a couple outings to get back to neutral," Pestano said. "There's no discomfort, but still, not throwing for a couple weeks, your body just needs some time to build up that stamina, that strength again. And mechanically, you still feel a little out of sorts."
Jordan Bastian is a reporter for MLB.com. Read his blog, Major League Bastian, and follow him on Twitter @MLBastian. This story was not subject to the approval of Major League Baseball or its clubs.