Raburn relishing platoon role for Tribe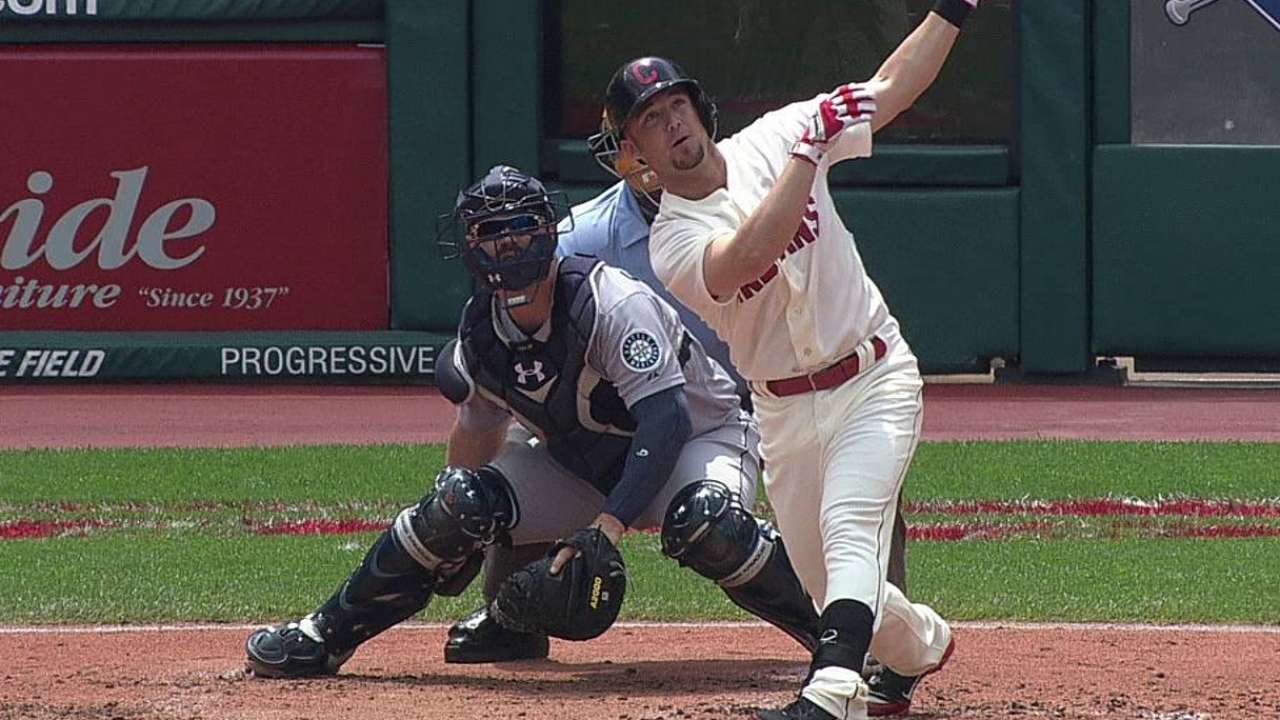 CLEVELAND -- Ryan Raburn knows he's not going to play every day. And he's OK with that.
Raburn, 32, signed with the Indians in January after spending his entire career in the Tigers organization. He said he was aware his new role would not involve a regular spot in the lineup when he signed with a division rival.
"It's going great," Raburn said. "It's not something I haven't ever done before. It's not an easy task, but it's definitely something that I believe is giving me the ability to stay around and give me some time in the big leagues."
In Monday's series finale against Seattle, Raburn got the start, hitting eighth and playing right field. That's where he's been for the majority of his starts, though he has also appeared in left field and at second base for the Tribe.
And Raburn made his presence felt in his first at-bat of the 10-8 extra-inning win, as he crushed a three-run homer to left to get the Indians on the board.
"Anytime I'm in the lineup, I'm amped," Raburn said. "I love playing this game. I love playing with this team. I look forward to every moment I get a chance to go out there and try to help the ballclub."
In 27 games this season, Raburn is batting .299 (26-for-87) with six doubles, five home runs and 14 RBIs. His on-base percentage is .358 and he's slugging .540.
Much of that production came between April 29 and May 5, a period in which Raburn was named the American League Player of the Week. In five games, he hit .591 (13-for-22) with four of his home runs and nine of his RBIs.
The honor was one of Raburn's career highlights. Between that and the Indians' hot play, he seems to be enjoying his first year in Cleveland. Any frustration that a lack of playing time might cause hasn't gotten to him.
"Once you start getting frustrated about it, that's when you're not going to be able to succeed," Raburn said. "I think the biggest part is just accepting it. But in the back of your mind, you're still knowing you want to play every day. I think that's the drive that keeps you doing what you've got to do."
Mark Emery is an associate reporter for MLB.com. This story was not subject to the approval of Major League Baseball or its clubs.