Bourn still mad at assisting Cabrera's home run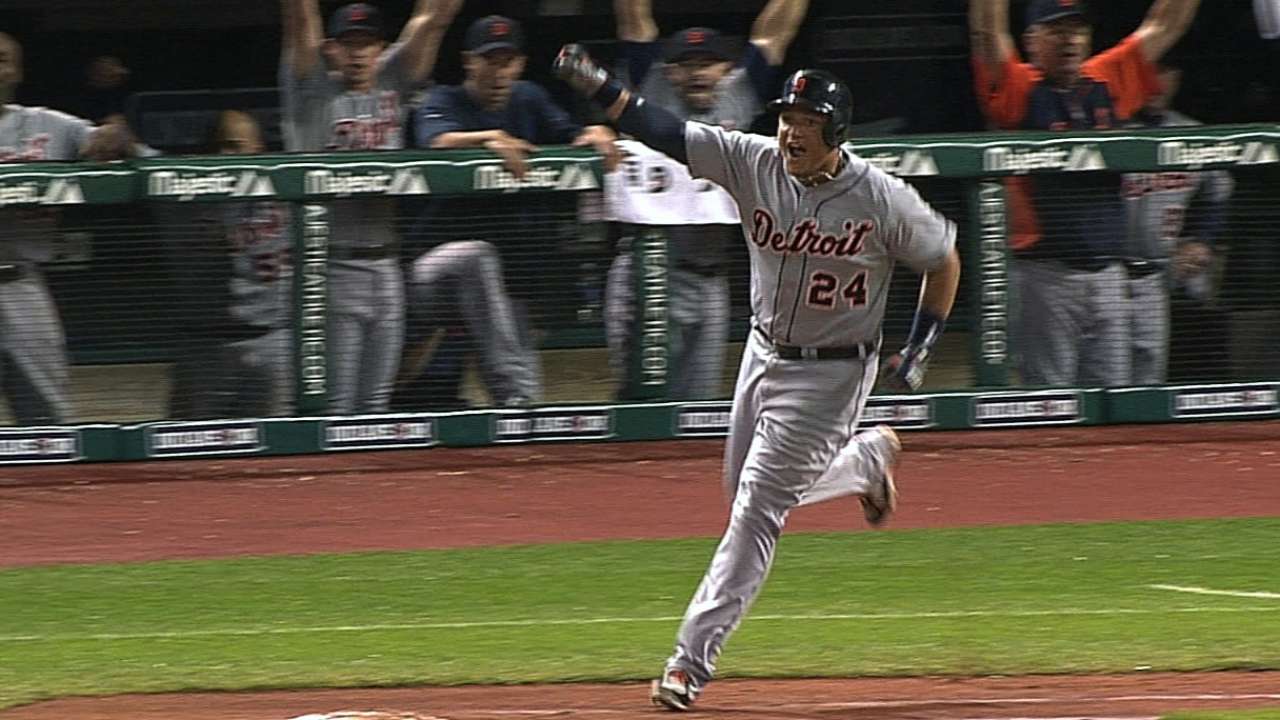 BOSTON -- Sitting at his locker inside the visitors' clubhouse at Fenway Park, Indians center fielder Michael Bourn was still stewing over the fly ball he did not catch on Wednesday night.
In the eighth inning of an 11-7 loss to the Tigers, Bourn sprinted to the warning track in center and positioned himself to catch a deep drive off the bat of slugger Miguel Cabrera. The baseball landed in Bourn's glove, but bounced back out and sailed over the wall for a two-run home run that will have a home on baseball's blooper reels.
"I was mad the whole plane ride here. I'm still mad," said Bourn, who then shook his head and allowed himself to laugh. "I'm going to always be mad at that. At the same time, I can get over it. It's just one of those things. I take pride in playing center field. I messed up. There's nothing I can say, but that it's my fault."
The home run was Cabrera's 13th and it upped the reigning American League Most Valuable Player's RBI total to 52 through 44 games.
Cabrera hardly needs a helping hand.
"That's never happened to me," Bourn said. "Usually when it goes in my glove, it don't come out. That time, it came out. I don't know if it's because I jarred against the wall, or what. I gave somebody that really doesn't need any help hitting home runs a home run. That's how I look at it. I was like, 'Man, this man leads the league in RBIs and [is second in] home runs, and he gets that.'"
Bourn said he made a point of apologizing to left-hander Rich Hill, who saw his ERA go from 3.09 to 3.95 because of the two runs charged to his line.
"I can't take that off his ERA," said Bourn, who has two Gold Gloves for his defensive prowess. "That's the person you feel bad for -- not for yourself. You did miss the ball, but there's nothing you can do about it for him. Man, I know he hit it good, but he didn't hit it good enough to get out of the park. I helped it get out of the park."
Indians manager Terry Francona said he hopes Bourn does not beat himself up too much over the fluke play.
"I felt so bad for him," Francona said. "I just wanted to make sure he was OK. He's so conscientious. He was so upset with himself."
Jordan Bastian is a reporter for MLB.com. Read his blog, Major League Bastian, and follow him on Twitter @MLBastian. This story was not subject to the approval of Major League Baseball or its clubs.