Francona impressed with Santana's power, patience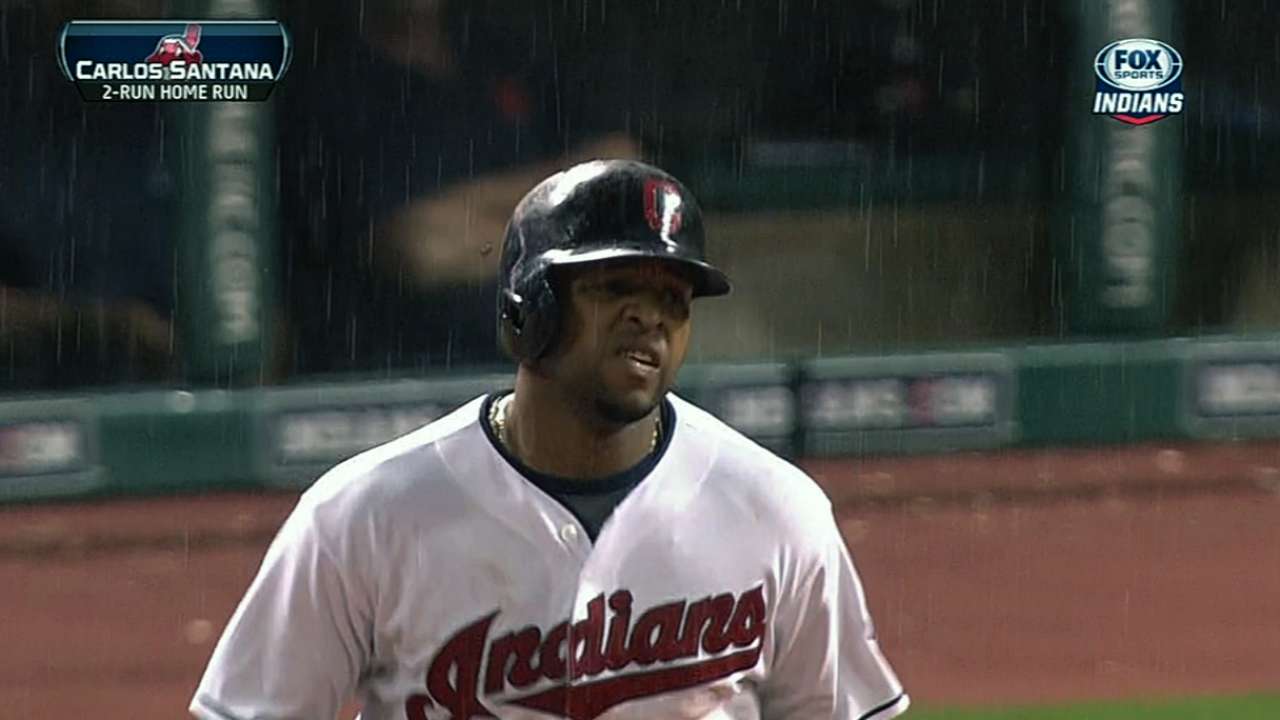 BOSTON -- Carlos Santana possesses a mix of power and poise that has had manager Terry Francona in awe at times.
One of those times was Thursday, when Santana drew four walks in Cleveland's 12-3 rout over the Red Sox at Fenway Park. The Tribe's regular catcher, who played first Thursday, mixed in a bunt single and ended the evening with three runs scored.
"That was unbelievable," Francona said on Friday. "We were talking about that in the dugout -- the guys were, too. I can't imagine doing that, having the patience. Because he swings almost violent, and he doesn't miss that much when he gets to two strikes. And he takes his walks and he swings at good pitches. It's amazing."
Santana became the first Indians batter to draw four walks in one game since July 19, 2008, when Grady Sizemore did so against the Mariners. Santana was the first Tribe hitter with at least one hit, three runs and four walks since Ellis Burks accomplished the feat against the Twins on Sept. 29, 2001.
Heading into Friday's game, Santana was hitting .299 with eight home runs, 13 doubles and 18 RBIs through 41 games. He led the team with 29 walks and a .420 on-base percentage.
"Dude's got those [eyes] working," first baseman Nick Swisher said. "It's great. Everyone is slotting into their spot. Everybody understands what their jobs are."
Asked about Santana, designated hitter Mark Reynolds laughed.
"His head is moving all over the place," Reynolds said. "He spits on everything. He's had more 3-0, 3-1, 2-0 counts than anyone I've ever seen in my life."
And what about that bunt single?
"He's been working on that bunt for a week," said Reynolds, who rolled his eyes. "Every time in [batting practice], he's been bunting like 10 pitches."
Jordan Bastian is a reporter for MLB.com. Read his blog, Major League Bastian, and follow him on Twitter @MLBastian. This story was not subject to the approval of Major League Baseball or its clubs.