Francona says struggling Pestano's elbow is fine
Reliever dealing with diminshed velocity, command issues since return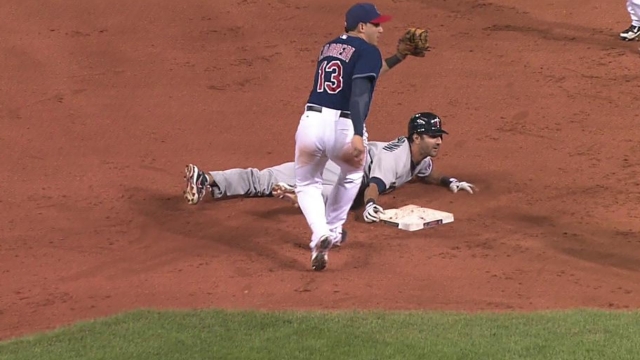 BOSTON -- If there were any health concerns about setup man Vinnie Pestano, Indians manager Terry Francona would not use the reliever in a game. Francona's only concern right now is getting Pestano back to his usual comfort level on the mound.
During Saturday's 7-4 loss to the Red Sox, Pestano surrendered four runs on four hits in the eighth inning for the worst outing of his career. The right-hander showed diminished velocity and command issues, but Francona said it was not the result of lingering discomfort in Pestano's recently injured elbow
"It'll be fine," Francona said on Sunday. "There's not any medical issues. We already got through that. Now, we've just got to get him back to being Vinnie."
Pestano was shelved on the 15-day disabled list due to right elbow tendinitis May 6-17 (retroactive to May 1), but the pitcher said Saturday that his arm feels fine. During his 31-pitch appearance against the Red Sox, Pestano was hitting around 87-90 mph with his fastball, which typically sits at 92-93.
Pestano said two weeks without throwing while sidelined on the DL are likely to blame.
"I definitely agree," Francona said. "It's like in Spring Training. When guys start throwing, they have to build up arm speed. That's what he's doing now."
Francona emphasized that he was not worried about Pestano's ability to bounce back. Last season, the right-hander set a single-season franchise record with 36 holds. Over the 2011-12 campaigns, Pestano posted a 2.45 ERA and piled up 160 strikeouts against 48 walks in 137 games.
Right now, Pestano's season ERA through 12 appearances is 5.25, which is the highest it has been at any point in his career.
"I told Vinnie, and I might've even said it to you guys," Francona said, "when he comes back [from the DL], there might be a little rust. You've got to shake it off. Like a hitter with a track record, this is a pitcher with a pretty [darn] impressive track record, the way he competes, the way he cares. So I wouldn't want to run away from him. I just want to help him."
Jordan Bastian is a reporter for MLB.com. Read his blog, Major League Bastian, and follow him on Twitter @MLBastian. This story was not subject to the approval of Major League Baseball or its clubs.