Francona and ump pick funny time for argument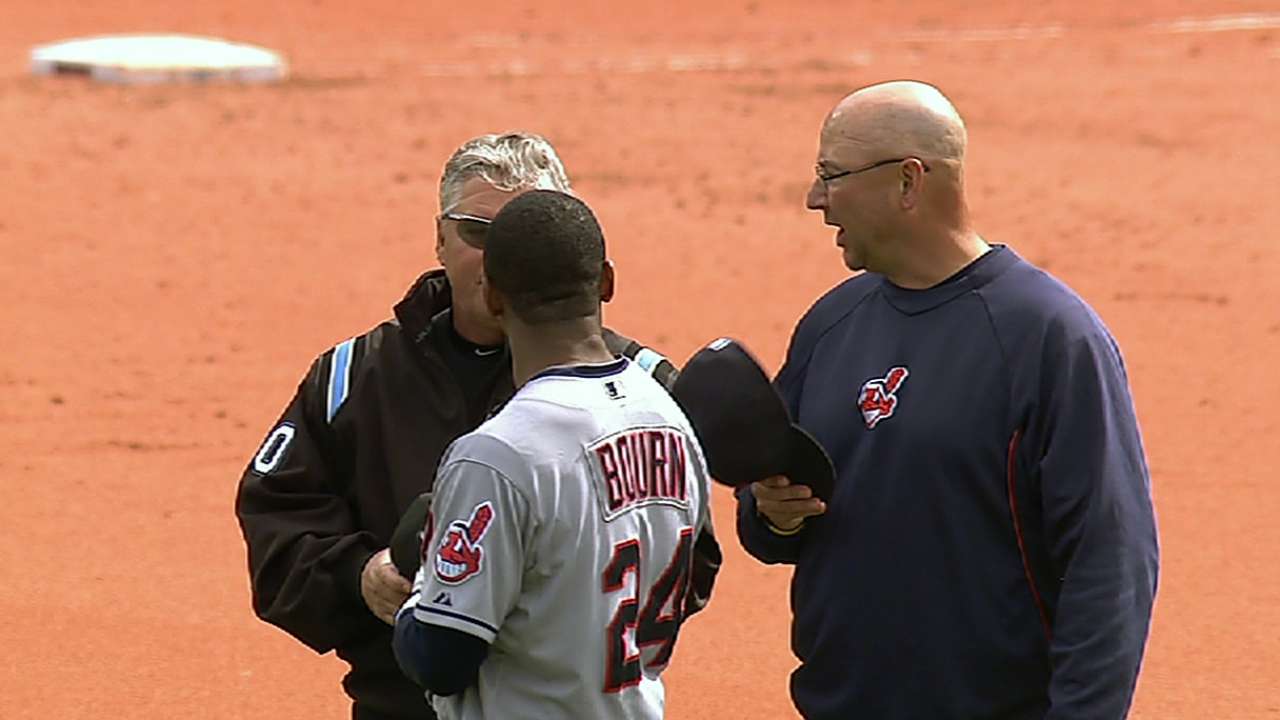 CINCINNATI -- It was a scene that would be right at home in a baseball comedy.
Indians manager Terry Francona jogged out of the dugout at Fenway Park after Michael Bourn was caught stealing to end the seventh inning in Sunday's 6-5 loss to the Red Sox. Bourn was getting heated while arguing with second-base umpire Tom Hallion and Francona wanted to make sure things stayed under control.
That is when "God Bless America" started to play at the ballpark.
"How about that?" Francona said with a robust laugh on Sunday. "I told Tom Hallion, I said, 'I came out here to yell at you and now I have to honor America with you.' That's exactly what I told him. We ended up all laughing."
Bourn believed he was safe, but admitted Sunday that Hallion got the call right. Red Sox shortstop Stephen Drew tagged the speedy center fielder on the back just before he reached second base. Upon being called out, Bourn threw his arms in the air and began an animated argument behind second base.
Francona wanted to make sure the center fielder did not get ejected.
"I got out there because I thought Bourny was yelling at him," Francona said. "I got in the way of Bourny and Bourny goes, 'Tito, I'm not cursing at him.' I said, 'Oh, I know, because Michael Bourn doesn't curse.' Then Bourny goes, 'Yes, I do. Sometimes.' If there had been a tape recorder out there ... it was so funny. It was unbelievable."
While the argument was still going on, Hallion removed his cap and Francona did the same. Francona could still be seen talking to the ump during the first few bars of "God Bless America."
"I said, 'Look at this. Look what you did now,'" said Francona, still laughing. "'I've got 34,000 people here and I have to take my hat off.'"
Jordan Bastian is a reporter for MLB.com. Read his blog, Major League Bastian, and follow him on Twitter @MLBastian. This story was not subject to the approval of Major League Baseball or its clubs.