Kluber settling into regular role in rotation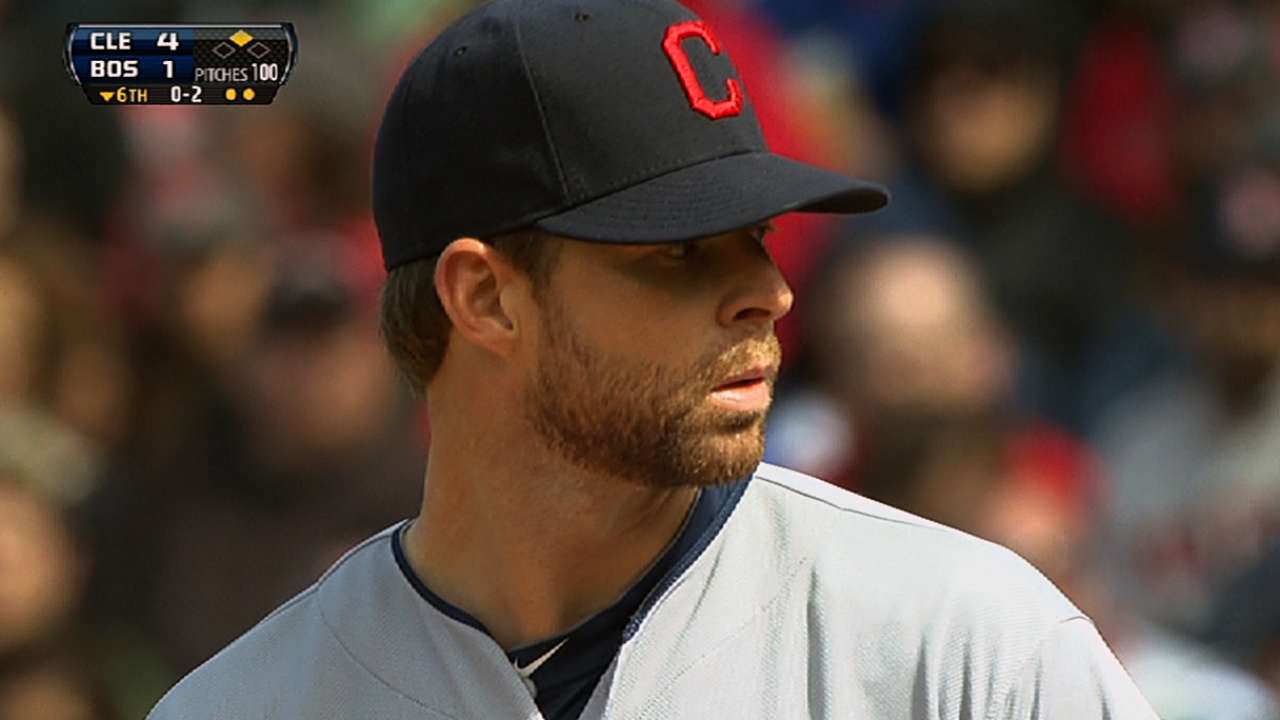 CINCINNATI -- Corey Kluber tends to keep to himself in the clubhouse and he is a softspoken part of an Indians club that has its share of characters. Kluber's personality seems fitting at the moment, considering he has quietly found a home in Cleveland's rotation.
Aside from one forgettable road start against Detroit, Kluber has been a consistent member of the Tribe's rejuvenated pitching staff. One of the keys to Kluber's success of late has been the right-hander's increasing ability to adjust on the fly.
"In the past, when he was able to make adjustments, it was more start to start," Indians pitching coach Mickey Callaway said. "So you saw some inconsistencies. Now, it seems like he's doing it in-game, which is really helping. He's a guy that likes information and likes feedback. Now, he's really starting to be able to use it in games."
Consider that rough outing on May 10 in the Motor City.
Kluber allowed eight runs on 11 hits in just 4 2/3 innings, but following the appearance he said he immediately knew what went wrong with his mechanics in the outing. In his three turns since that start, the 27-year-old right-hander has turned in three quality starts, allowing seven earned runs with 23 strikeouts and just one walk over 19 innings.
"I was getting too quick to the plate -- getting jumpy and not staying back," Kluber said of his start against the Tigers. "When I stay back over the rubber, my arm has time to catch up and I get on top of pitches and get that extension and finish instead of getting under the ball. There's a little more angle and a little more life to it."
Overall, Kluber has gone 3-3 with a 4.47 ERA in eight games, including six starts, for the Indians this season. Excluding the outing in Detroit, he has posted a 3.19 ERA with 39 strikeouts against five walks over 36 2/3 innings.
Lately, Kluber's slider has improved, creating a go-to weapon for swings and misses. The righty's slider was especially strong on Sunday, when he piled up a career-high 10 strikeouts and held the Red Sox to one run, one walk and three hits over 6 2/3 innings of a no-decision.
"What we've done is really try to stay away from his cutter as much," Callaway explained. "We just use his cutter to complement his pitches instead of pitching off the cutter. Now, he's pitching off his fastball and his fastball velocity has gone up, and he's gotten his slider back a little bit. A lot of times when you over-use your cutter, it will kind of go into your slider and make it inconsistent."
Kluber said the string of success has helped him gain confidence
"I'm just getting more comfortable up here," Kluber said. "I've gone out there and had some good outings and I'm trying to build off that, and always find something to improve on."
Jordan Bastian is a reporter for MLB.com. Read his blog, Major League Bastian, and follow him on Twitter @MLBastian. This story was not subject to the approval of Major League Baseball or its clubs.