Giambi hopes big homer puts an end to slump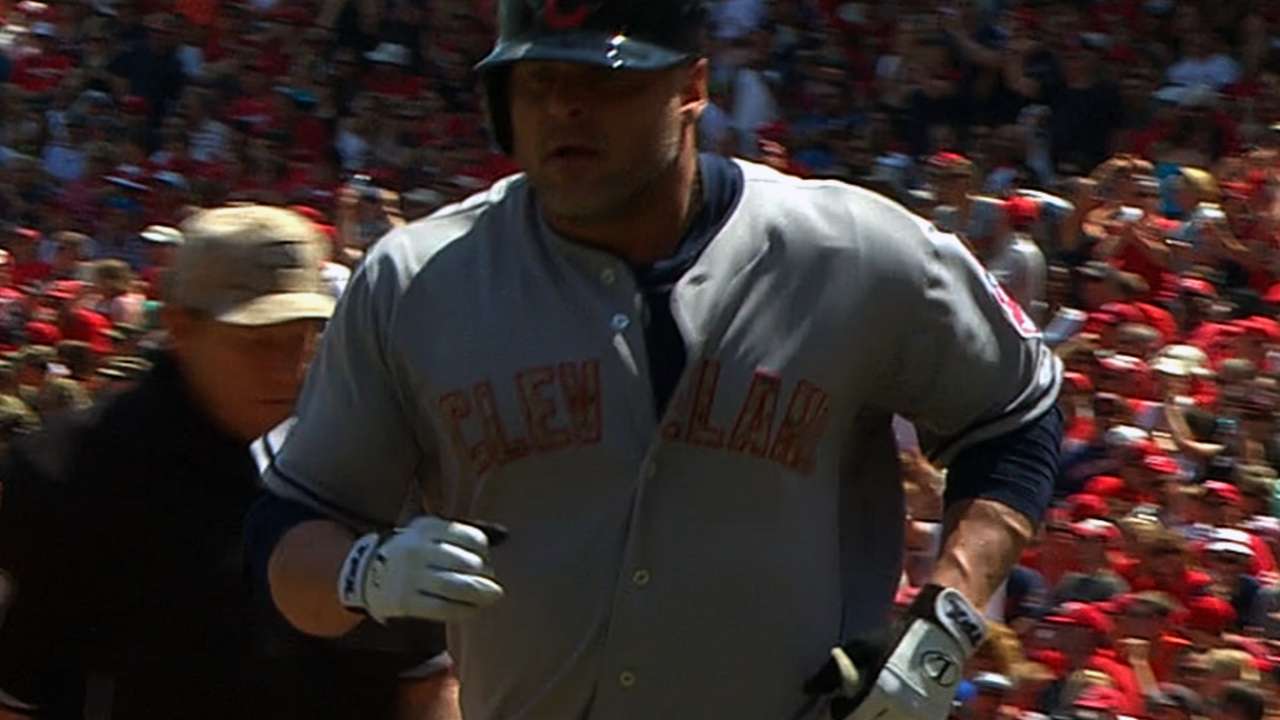 CINCINNATI -- As veteran Jason Giambi jogged back to the visitors' dugout at Great American Ball Park, following his mammoth pinch-hit home run in the eighth inning on Monday, Indians manager Terry Francona extended his hand to greet the slugger with a fist bump.
"He almost broke my wrist and my watch," Francona said with a laugh. "Seriously. I was bent over."
Francona called it a great moment for Giambi and for the team.
Giambi, who has been bothered by a pinched nerve in his neck for the past two weeks, was mired in an 0-for-24 slump prior to his 467-foot blast. That represented the third-longest hitless streak of his 19-year career. The shot off Reds right-hander Mike Leake caromed off the black technology pavilion building beyond the center-field wall and pulled the game into a 2-2 tie.
Cleveland went on to lose, 4-2, but Giambi was still happy to have broken free from his drought.
"I told them, 'God, I'm back,'" Giambi said. "Hopefully I can help the ballclub. That's the most important thing. Tito [Francona] really helped out. I was kind of going through that pinched nerve in my neck and he was like, 'Hey, just keep going up there and battling.' I don't care how old you are. It's nice for your manager to come up there and tell you you're OK.
"I've been frustrated and kind of been upset at myself because I wasn't helping the ballclub as much as I wanted to. He made me feel good, and the guys have given unbelievable support during that stretch."
Francona said his words of encouragement with Giambi were aimed at reminding the 42-year-old that -- slump or no slump -- the veteran is important to the team.
"I have so much, not just affection, but so much admiration for him," Francona said. "It's a blessing to have him. He does so many things to help everybody out. I just wanted to make sure he knew that we were there for him, too. And not to forget who he is and how good he is and how much we appreciate him. That's all it really was."
Jordan Bastian is a reporter for MLB.com. Read his blog, Major League Bastian, and follow him on Twitter @MLBastian. This story was not subject to the approval of Major League Baseball or its clubs.