Choo excited for Cleveland return with Reds
Former Indians star posting impressive numbers in first year in Cincinnati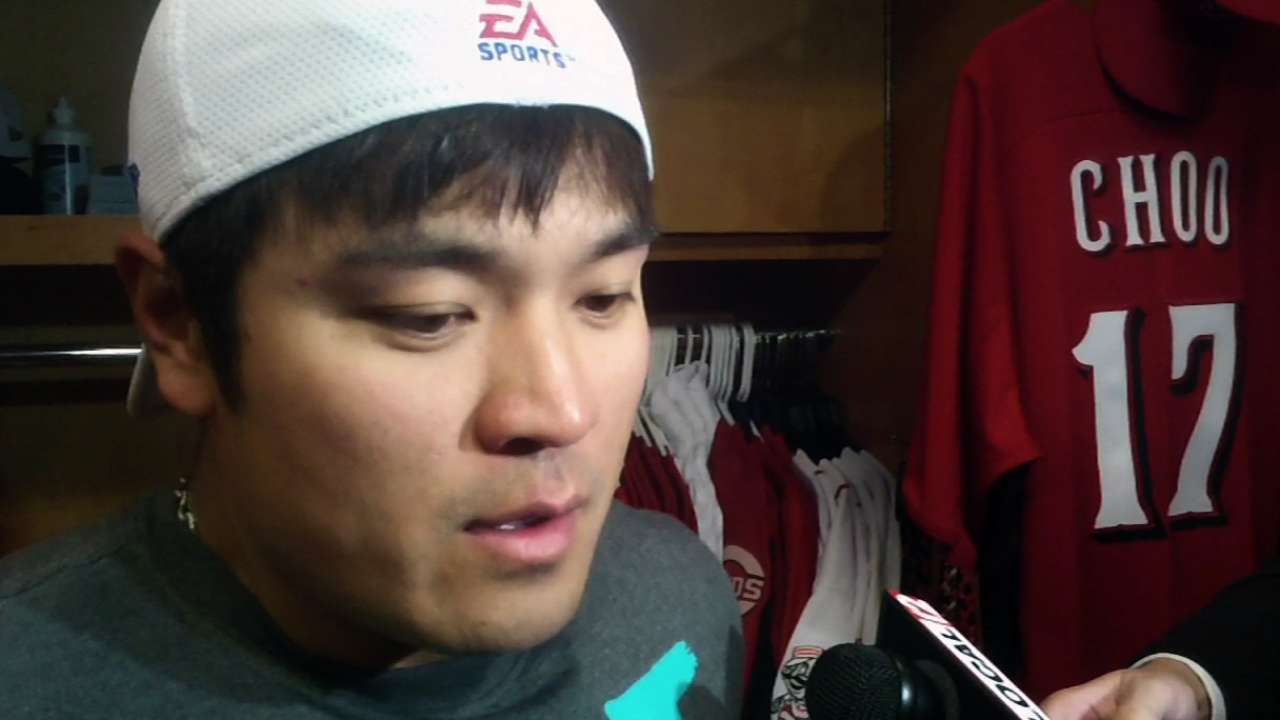 CINCINNATI -- Aside from the obvious -- his ability with his bat and arm -- Reds manager Dusty Baker didn't know much about the man he now refers to as "Mr. Choo."
One attribute in particular did catch Baker's attention when the skipper saw Shin-Soo Choo during previous editions of the Showdown of Ohio.
"The clothes he had on, the hairstyle he had -- I said, 'This guy is pretty cool,'" Baker said.
The Indians know what they parted with over the winter. Now the Reds, who travel to Progressive Field for the final two matchups of this week's four-game Interleague set, are learning what makes Choo so revered in clubhouses.
Baker can recall each of the seven home runs Choo slugged against Cincinnati from 2008-12. Still, though Choo's talents had shone through against Baker's bunch -- he totes a .351 average and 1.139 OPS in 24 clashes with the Reds -- the manager opted not to establish any expectations for the 30-year-old upon his arrival to the Queen City.
"[You never] really know until you get a player under your sight every day," Baker said. "Guys look like $1 million sometimes on the other side of the field and then you get them and they're worth 50 cents. Then some other guys look like 50 cents and then they're worth $1 million when you get them on your side."
Many questioned how Choo would assimilate into the framework of the Reds' lineup and defense. Throughout his seven-year stint in Cleveland, Choo constantly encountered hurdles that handicapped his on-field performance. He has been presented a fresh batch of obstacles this season, but the veteran has finally discovered how to free his mind from the shackles of distractions.
On Wednesday, Choo will enter the visitors' clubhouse in Cleveland for the first time. He'll do so a changed player donning a different uniform.
"I'm excited," Choo said. "Not nervous, just happy to get back to my old hometown."
It will be fitting for Choo to embrace familiar surroundings, since he has finally found some semblance of comfort at the ballpark.
That was no more evident than during batting practice on Tuesday, when Choo chatted with his former teammates and coaches at Great American Ball Park. He couldn't keep a smile from spreading across his face as he embraced bullpen catcher Francisco Morales, who nearly clotheslined Choo to the ground with an aggressive hug.
Rarely has Choo been at such peace.
In 2010, he directed his native South Korea to the gold medal in baseball at the Asian Games, a feat necessary to make him exempt from having to fulfill a military obligation, which could have forced him to miss time on the field with the Indians. A DUI, a broken thumb and a strained oblique muscle foiled much of his '11 campaign. His aversion to being hit by pitches -- one he has since shaken -- and his uncertain future admittedly hindered his focus for parts of the '12 season.
This year, Choo isn't allowing his shift to center field, his relocation to the opposite corner of Ohio, his soon-to-expire contract or even his impending return to Cleveland interfere with his play. A more simplistic, compartmentalized approach has provided Choo a sense of relaxation.
"My mindset has changed this year," Choo said. "I don't think about the big picture. I don't think about the whole season or entire games. I just think about every pitch. Not even every at-bat. One pitch at a time."
The mentality has helped Choo -- a notoriously slow starter -- to a stellar first two months. He boasts a .296 batting average, a .450 on-base percentage, has clubbed 10 home runs and has been struck by a league-high 14 pitches.
What has stood out most to Baker, though, is Choo's presence in the clubhouse.
"We believed he was a good player," Baker said, "but what we didn't know was that he was a better teammate than he is a player."
Choo's former mates in Cleveland know that first-hand.
"He played hard, he wanted to win and you could never dock him for his effort out there," said Tribe reliever Joe Smith. "That's all you can ask for."
Of course, the Indians are also plenty familiar with what Baker first noticed about Choo.
"Flashy. Very clean. Never wrinkled," center fielder Michael Brantley said about Choo's wardrobe. "He always dressed nice. Never dressed down."
And the man's hair, at which Baker, a man clinging to a few final gray curls of his own, marveled?
"No one can beat that flow," Smith said, "especially when it was long."
Choo has no idea where he'll be playing this time next year, and he doesn't care to entertain the possibilities until the offseason. His wife and their three children -- his sons are eight and three and his daughter is 21 months old -- moved on Sunday to the Cincinnati area, where the eldest child will attend summer camp.
"I want to stay in the same area for a long time -- wherever it is," Choo said. "Kids need their dad. It's hard in the baseball season -- you spend six months away by yourself and six months you get together in the offseason. I want to stay in one area. But I'm not thinking about it. I'm not thinking about teams or cities."
The Indians never made enough progress on discussions regarding a contract extension with Choo to feel confident about keeping him long term. Thus, they shipped him to Cincinnati in the three-team, nine-player deal in December. Cincinnati general manager Walt Jocketty has conceded that the odds are against Choo, who is due for a significant financial boost, remaining a Red past this season.
Still, Choo already seems to have proven his worth to his new team. When asked if he would classify Choo as the $1 million or 50 cents type, Baker sidestepped both categories.
"He's making a lot more money than that," Baker said, laughing. "And he'll make some more at this pace."
Zack Meisel is a reporter for MLB.com. Follow him on Twitter @zackmeisel. This story was not subject to the approval of Major League Baseball or its clubs.