Pestano's increased velocity a positive sign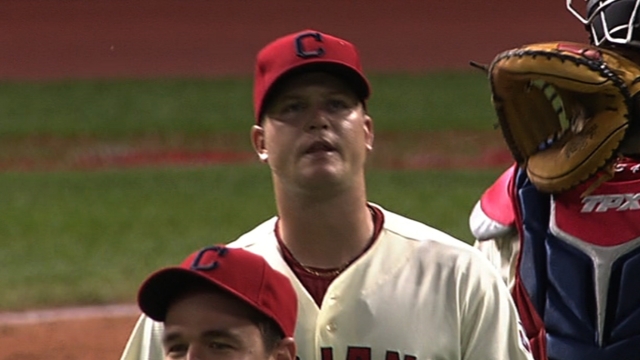 CLEVELAND -- Vinnie Pestano got his first taste of ninth-inning action on Wednesday since moving to the closer's role that Chris Perez temporarily vacated by going on the disabled list.
With the Indians leading 5-1, Pestano fell behind leadoff hitter Xavier Paul, 3-2, before giving up a solo home run. He then rebounded to retire the next three batters to seal the win.
What's more, his fastball velocity registered around 90-92 mph, as opposed to the 87-90-mph balls he was throwing at Fenway Park on Saturday, giving up four runs and taking the loss.
"I think he's getting better," Indians manager Terry Francona said. "He gave up a leadoff solo homer, and it looked like he got a little aggravated. But I think each time he throws, he's getting closer to being Vinnie, and I think he probably feels the same way, too.
"I think he still feels like he has a little ways to go, but thankfully, or fortunately for us, he's such a competitor that while he's working himself back into top form, he'll compete and get people out."
In addition to velocity, Francona said it's also important that Pestano's heater has movement and reaches the desired destination. That becomes more likely when Pestano's motion involves proper extension, which is something the right-hander has made a point of working on.
"When the velo was down, I was trying to create velocity by muscling up and trying to sling the ball instead of just getting out front," Pestano said. "Velo was up a tick, which is good. That's encouraging, but I still got more work to do."
Right elbow tendinitis put Pestano on the 15-day DL to begin the month. Since coming off on May 17, the reliever has struggled, posting a 10.80 ERA while going 0-for-2 in save opportunities. In five innings this month, Pestano has struck out five and walked three, and opponents have hit .286 against him.
"I took about 15 days off without throwing, so the arm kind of went a little backwards," Pestano said. "We've been battling to get that back. But it's just tough. It's not Spring Training -- you're not throwing bullpens every other day. Just trying to keep up with shoulder programs and catch-play -- even though we do it every day, it's not really meant to build arm strength during the season. You usually do that through your outings. I just need to get out there more and throw more."
Jordan Bastian is a reporter for MLB.com. Read his blog, Major League Bastian, and follow him on Twitter @MLBastian. Mark Emery is an associate reporter for MLB.com. This story was not subject to the approval of Major League Baseball or its clubs.