Indians love having Aviles, Gomes around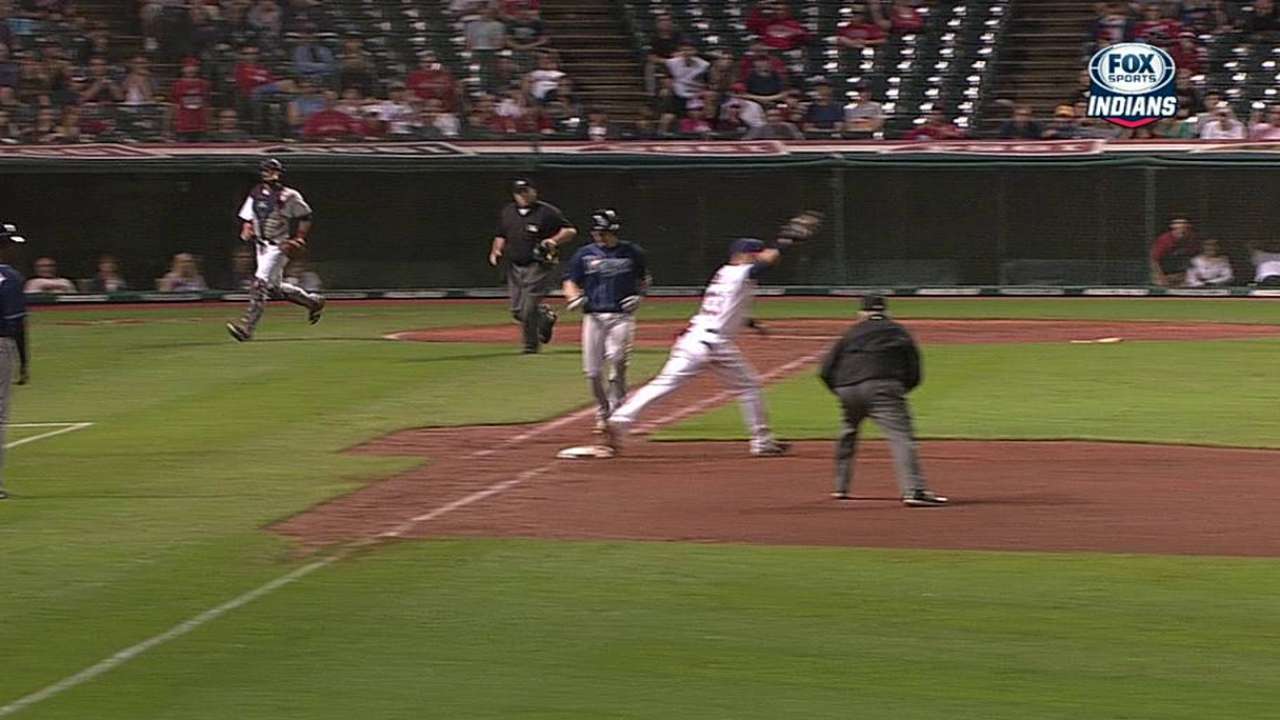 CLEVELAND -- To say the Indians are happy with the November trade that brought Mike Aviles and Yan Gomes to Cleveland wouldn't do their feelings justice. They're thrilled.
Although neither Aviles nor Gomes is a lineup regular, both have played key roles in the Tribe's early success. Both players were in the lineup on Friday against Tampa Bay -- a 9-2 loss that finished well into Saturday morning due to nearly five hours of rain delays -- with Aviles at second base and hitting second and Gomes catching and batting seventh.
Indians manager Terry Francona gushed about Aviles before the game, just as he recently has about Gomes.
"I think you have to have guys like that, that want to play every day, are good enough to play every day, but accept their role," Francona said. "[Aviles] can play second, short, third, left and right, he can hit a fastball, he could hit anywhere in the order, he can steal a base -- very valuable.
"And when he's not playing, he makes your team better by being a good teammate. So, those are very important people to have. And that's probably exactly what I thought we were getting. That's why I was so excited when he was part of that trade."
To acquire Aviles and Gomes, the Tribe had to part with right-hander Esmil Rogers, who's 1-2 with a 4.03 ERA in 23 games for Toronto this season.
In 36 games with Cleveland, Aviles is batting .263 (25-for-95) with three homers and 15 RBIs, and is 3-for-4 in stolen-base attempts. He's appeared at each of the positions Francona mentioned, with most of his starts coming at shortstop.
As for Gomes, he's batting .310 (22-for-71) with five homers and 14 RBIs over 22 games. He's also thrown out eight of 13 base stealers.
On Thursday, Gomes went 3-for-4 while driving in a run and scoring another, starting at catcher while Carlos Santana filled the designated hitter's role.
"It's impressive," Francona said. "Any time we can keep Carlos' bat in the lineup and not have him catch, it's just like saving gas in the tank. [Gomes has] given us offense, he's given us defense, and it allows us to have both guys in the lineup. It's great. That's why we can do what we're doing now, having a three-man bench, because we're versatile and guys produce."
Mark Emery is an associate reporter for MLB.com. This story was not subject to the approval of Major League Baseball or its clubs.