Team president Shapiro addresses Friday's rain delays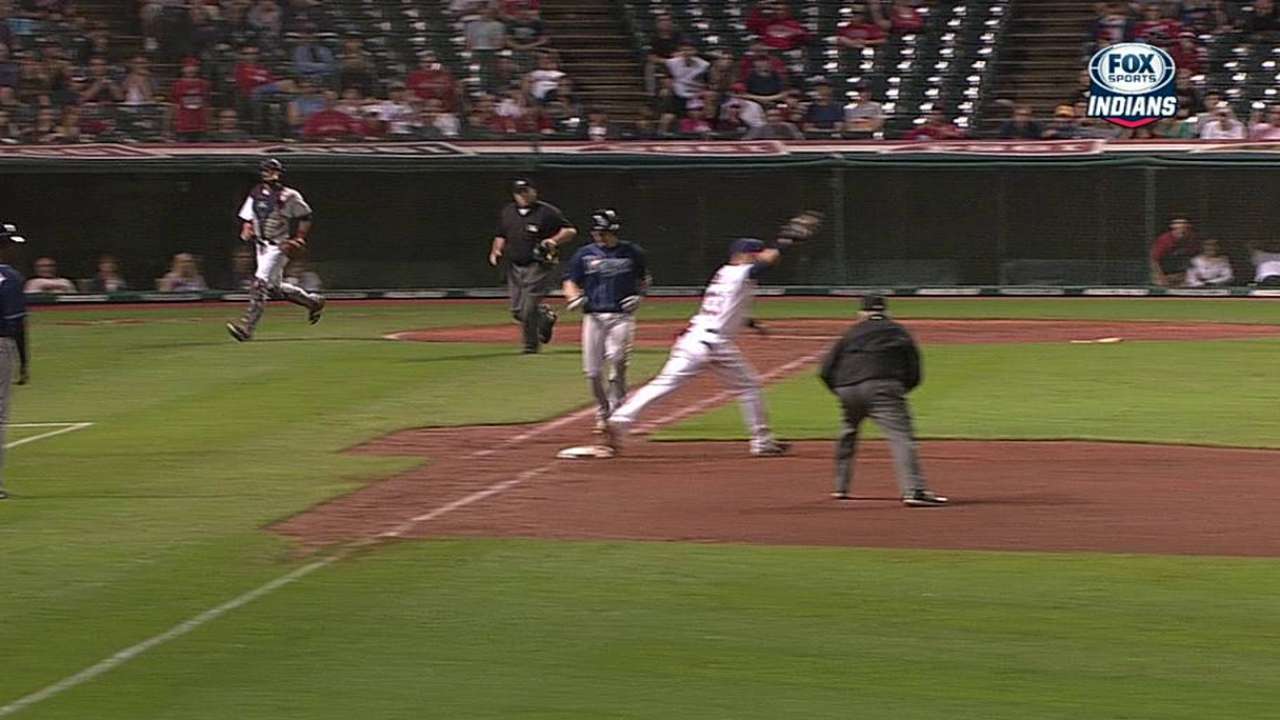 CLEVELAND -- Mike Aviles stretched out on a clubhouse couch Saturday morning and imagined how nice it might have been to just make his bed there after Friday's game finished up around 3 a.m. ET.
That option probably appealed to many of the Indians' players, who had to be back at Progressive Field for a 1:05 p.m. ET start against Tampa Bay. For Mark Reynolds, that was the worst thing about Friday's rain delays, which totaled nearly five hours.
"It's weird, but it's part of baseball," Reynolds said after the game finally wrapped up. "You got to get the games in. Tampa doesn't come back here; we don't play them again. I'd rather have it tonight than have a doubleheader later on in the year."
Scheduling challenges are part of what made Friday's game so unique. In addition to Reynolds' point, there were no viable mutual off-days that would have provided a chance to reschedule. The two clubs wanted to get the game in, especially because the weather didn't look much better for the rest of the weekend.
Team president Mark Shapiro made a point of addressing the situation on Saturday, saying there was collaboration between the umpires, the league, both clubs and local weather specialists. He apologized to the fans in attendance and said that they should keep their ticket stubs, as the Indians are exploring ways to make up for the night's events.
"Pushing back problems to a later date didn't look like a good alternative for us," Shapiro said. "We feel terrible about that type of circumstance for our fans. That's not what we're looking to do here. We're looking to provide the best experience possible for our fans, and [to] have them wait around that long with that much uncertainty is something we want to work to make right."
The team issued a statement Saturday morning which said, in part, "For those who were unable to remain at the ballpark, we apologize for the inconvenience of the delays and subsequent restart of the game after midnight. ... We value each and every one of our fans. We want to thank the fans that did stay for some or all of the game for their loyalty, patience and perseverance. Our fans were incredible last night.
"While we did our best to ensure that those who stayed had a great experience, we realize that the weather-related circumstances from Friday's game presented difficulties for many fans to have a memorable ballpark experience. ... We are always looking to provide our fans the best experience possible at Progressive Field and in the near future reach out to last night's fans to make it right."
The fans who withstood the delays didn't go unnoticed by Nick Swisher, either. He appreciated their presence as well as their enthusiasm.
"Those nights can get long for sure, but it was pretty cool how many people stayed for that game," Swisher said Saturday. "Anytime you have a late game like that, and you come back for this next one, we're all going to sleep really well after that game today."
Mark Emery is an associate reporter for MLB.com. This story was not subject to the approval of Major League Baseball or its clubs.