Francona ejected in fifth after arguing strike zone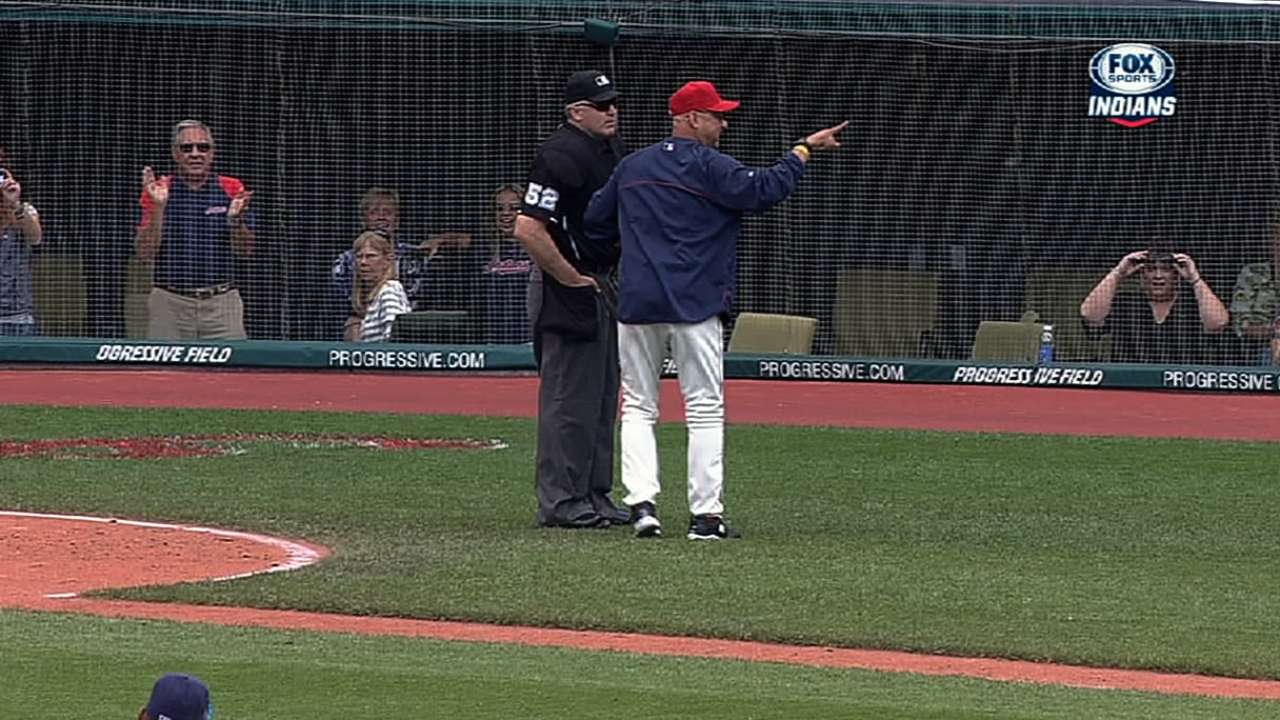 CLEVELAND -- Indians manager Terry Francona was ejected from Sunday's 11-3 loss to Tampa Bay after coming out to argue a pitch during Nick Swisher's fifth-inning at-bat.
Francona exited the dugout after home-plate umpire Bill Welke called a strike on a pitch from Rays starter Jeremy Hellickson that appeared outside. The manager argued for several minutes -- tossing his gum aside and pointing in the direction of third base at different moments -- before Welke tossed him.
"I just thought his strike zone was -- I thought he was inconsistent," said Francona, whose issues with the zone began before Swisher's at-bat. "I went back and looked at the pitches and I said [to Welke], 'I feel stronger now than I did when I was yelling at you from the dugout.'"
The Indians had not been happy with the umpiring crew for most of Sunday's game. Tribe starter Zach McAllister, who issued four walks in 4 1/3 inning of work, took time to discuss the strike zone with Welke following the top half of the third, which might have ended with a strikeout of Evan Longoria. Instead, the Rays slugger got to continue his at-bat and singled in Matt Joyce to put Tampa Bay up, 3-0.
"I mean, I thought it was a good pitch, but obviously it wasn't," said McAllister, who went without a strikeout for the first time in his career. "I was just asking where a couple pitches were, and that was it."
Catcher Yan Gomes shared McAllister's feeling in the moment. After the pitch to Longoria that was called a ball, he got up from his crouch and headed back to the dugout, only to realize the actual call. He said he apologized to Welke.
"I should have stayed down and let him make a call instead of pulling up like that," Gomes said. "I didn't mean to show him up."
The visiting Rays added to their lead in the fourth inning, which Sam Fuld led off with a triple. He reached third on a ball to right field that was interrupted by contact with a ball boy, but the umpires let it stand. The crew heeded the rulebook and decided against putting Fuld on second base, as the ball boy was in the field of play and made contact with the ball unintentionally.
The combination of factors was too much for Francona, who earned a rousing ovation from the Progressive Field faithful after sticking up for his players.
"We know he has our back," Michael Brantley said. "There's no question about that. Every player in this locker room has the utmost respect for him."
Mark Emery is an associate reporter for MLB.com. This story was not subject to the approval of Major League Baseball or its clubs.