Francona: Reynolds can 'do a lot of damage'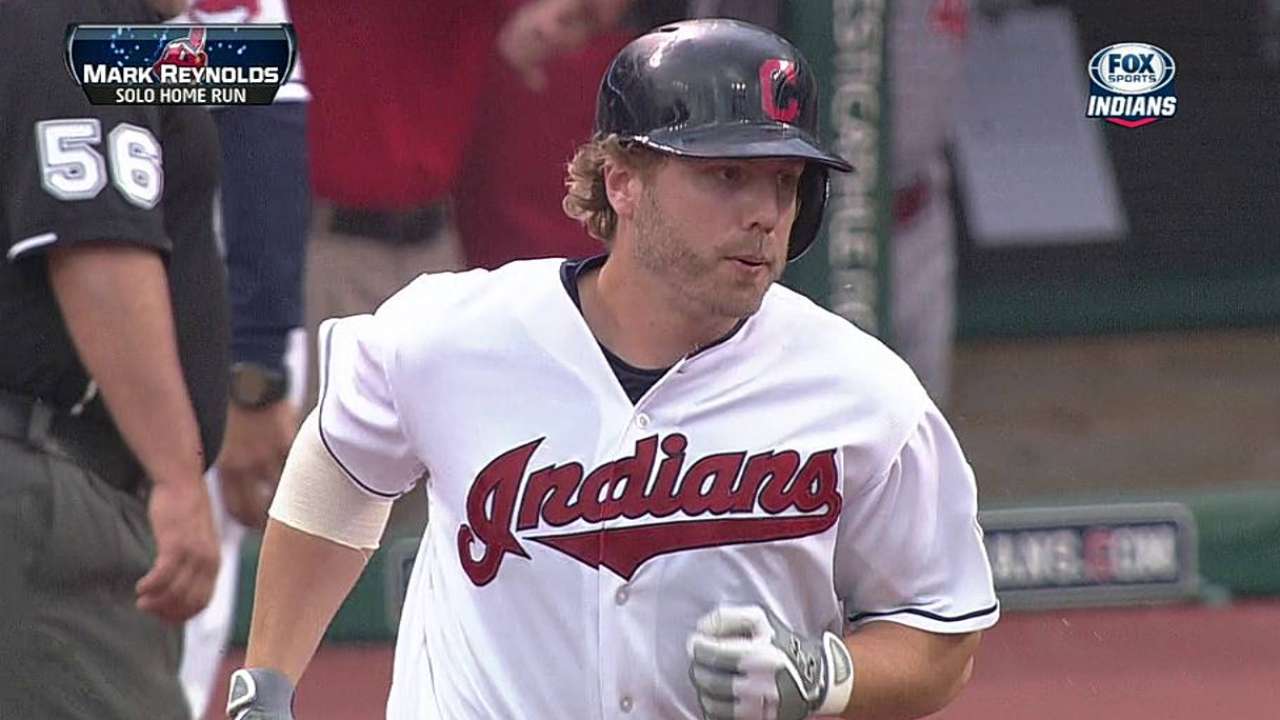 NEW YORK -- Terry Francona was in the Dominican Republic this past winter when the Indians were trying to finish a contract with slugger Mark Reynolds. The manager had terrible cell phone reception and had trouble connecting with the free agent.
When Francona managed to get Reynolds on the phone, his message was simple.
"When I finally got him," Francona said, "he was like, 'Hey, man. I'm worried about getting platooned.' I said, 'Are you nuts? Shoot, I want you to hit about 40 homers.'"
There have been peaks and valleys -- Reynolds' current slump is a drastic contrast from his incredible April -- but the right-handed slugger has lived up to Francona's hopes so far. Heading into Monday's game in New York, Reynolds led the Indians with 13 home runs and 41 RBIs, putting him on pace for more than 30 homers and 100 RBIs.
Reynolds had, however, been in a regression over the last 26 games entering Monday. In that span, he hit .193 (17-for-88) with three homers, 14 RBIs, 31 strikeouts and a .594 OPS. In the previous 28 games, Reynolds hit .300 (30-for-100) with 10 homers, 27 RBIs, 27 strikeouts and a 1.026 OPS for the Indians.
Reynolds' strikeout rate has spiked over the past few weeks, but Francona said that is not something the team is overly concerned about.
"We really don't talk about it," Francona said. "The one thing I ask him, I just say, 'Hey, go up and take as many good swings as you can.' If he does that, he's going to run into so much damage. And that's what he's doing. There's sometimes he's struck out and I'm like, 'Wow, he just took three of the healthiest swings.' You know that at some point in the game, if he keeps swinging like that, he's going to hit a homer.
"That's what he's been doing. I don't want him to get down about the strikeouts. That's not part of, in my opinion, what he needs to worry about. If he takes good swings, he's so strong and so quick that he's going to do a lot of damage."
Jordan Bastian is a reporter for MLB.com. Read his blog, Major League Bastian, and follow him on Twitter @MLBastian. This story was not subject to the approval of Major League Baseball or its clubs.