Indians expect more out of right-hander Carrasco
Indians expect more out of right-hander Carrasco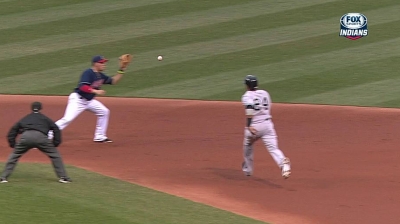 ARLINGTON -- The Indians believe it is time for Carlos Carrasco to live up to his potential and show that he belongs in the big leagues. That was the message the team delivered to the pitcher following his disappointing outing against the Tigers on Saturday.
"We just talked about him owning up to it," Indians pitching coach Mickey Callaway said, "and going out there and pitching like a Major League pitcher. We think it's time for him to do that. He knows that."
During Saturday's start in Detroit, Carrasco allowed six runs on 10 hits in four innings, including three that included bases-loaded jams. The right-hander routinely hit around 95-97 mph with his fastball, but he strayed away from the aggressive approach he displayed in recent outings at Triple-A Columbus. Carrasco did not pitch inside well and that allowed the Tigers' hitters to get their arms extended to create solid contact.
Given Carrasco's recent history of suspensions, he admitted to Callaway and manager Terry Francona that he was tentative when it came to pitching inside. Carrasco is currently serving a seven-game suspension for hitting the Yankees' Kevin Youkilis with a pitch after allowing a home run to Robinson Cano on April 9. The Indians starter was hit with a suspension due to a similar incident against the Royals in 2011.
"He's got to pitch in," Callaway said. "He was doing that in Triple-A and he kind of got away from it the other day. We had a good conversation about it and I expect that he's going to start pitching in a little more. We talked about it. He had a little anxiety pitching in just in case he hit somebody and gets thrown out of the game.
"We explained to him that if you're just pitching in in a normal situation, not after giving up home runs, and you hit somebody, you're going to be OK."
With Columbus this season, Carrasco went 2-0 with a 3.21 ERA, 50 strikeouts and 14 walks in 47 2/3 innings.
On Thursday, which is an off-day for the Indians, Carrasco will head to Charlotte, N.C., with Columbus to throw a five-inning (75-80 pitches) simulated game to stay sharp. If everything goes according to plan, Carrasco will make his next start for Cleveland on June 18 against the Royals.
"One of the reasons he's going to do this sim game," Callaway said, "is to really implement some of the things we talked about and get comfortable. He knows he needs to be comfortable at this level. He's done it before and had success."
Jordan Bastian is a reporter for MLB.com. Read his blog, Major League Bastian, and follow him on Twitter @MLBastian. This story was not subject to the approval of Major League Baseball or its clubs.