Kluber doesn't have to rely on just strikeouts
Kluber doesn't have to rely on just strikeouts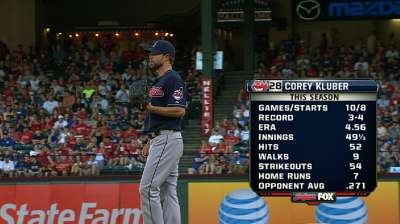 ARLINGTON -- Corey Kluber has shown the potential to become a strikeout artist for the Indians, but he altered his style in his latest outing against the Rangers.
After posting impressive strikeout totals in recent starts, Kluber took advantage of an aggressive Rangers lineup, using his slider and cutter to induce a wave of ground-ball outs on Tuesday during Cleveland's 5-2 win. The right-hander ended with only three strikeouts in his eight innings, but created 14 outs on the ground, including 10 in the first four frames.
Indians pitching coach Mickey Callaway said Kluber picked up on Texas' approach and exploited it.
"I thought it was more their game plan against him," Callaway said. "I'm sure they looked and said, 'Hey, this guy has really good secondary stuff. Don't let him get ahead of you, because he's going to wipe you out.' But he continued to pound the zone and he didn't try to do too much.
"When they're giving you outs early in the count, you take them. He knows that. I think all the pitchers know that, and he did a great job of making pitches early and letting them try to do too much with them."
Heading into Tuesday's victory, Kluber had been one of the American League's top strikeout pitchers over the past month. During the period of May 15-June 10, which includes Kluber's five starts prior to Tuesday, Kluber ranked second in the league with 11.33 strikeouts per nine innings. The rest of the top five in that list includes Anibal Sanchez (11.37), Justin Verlander (11.30), Felix Hernandez (10.36) and Derek Holland (10.36).
"That's pretty good company," Callaway said.
On the season, Kluber has gone 4-4 with a 4.08 ERA over 11 appearances, which include 57 strikeouts and 12 walks over 57 1/3 innings. Entering Wednesday, the right-hander's 4.75 strikeout-to-walk ratio ranked ninth in the AL, and his 8.95 strikeouts per nine innings ranked 12th in the league. Kluber was sixth in the AL with a 26 percent swing-and-miss rate.
Callaway said Kluber has continued to show improvement in making adjustments on the fly.
"Definitely," said the pitching coach. "He's been so good at recognizing when he needs to adjust and what his game plan is, and sticking with a game plan and knowing what people are trying to do against him. He's very prepared and likes information, and he's done a really good job with that this year."
Jordan Bastian is a reporter for MLB.com. Read his blog, Major League Bastian, and follow him on Twitter @MLBastian. This story was not subject to the approval of Major League Baseball or its clubs.