Francona: Asdrubal to return as quick as possible
Francona: Asdrubal to return as quick as possible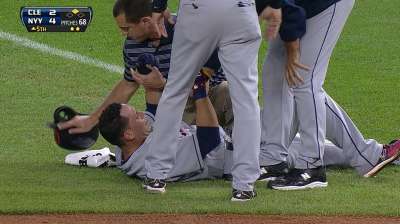 CLEVELAND -- Indians fans who are uneasy about Asdrubal Cabrera being confined to the bench shouldn't have to worry much longer. The two-time All-Star is doing everything he can to put himself back on the field.
Cabrera was removed from the lineup halfway through the June 3 game in Yankee Stadium. A day later, the shortstop was on the 15-day disabled list with a right quadriceps strain. Tribe manager Terry Francona said Cabrera hasn't been careless or lazy when it comes to his recovery.
"He is doing really well," Francona said. "We can't put a day on it, just because it's a muscle, and when it is ready to be healed, it's going to be healed. Saying that, the day you see him out there, I'd be willing to bet it's probably as quick as humanly possible."
Cabrera had been hampered by the quad discomfort in the weeks before his strain. In 53 games this season, he's batting .254 (52-for-205) with 18 doubles, two triples and five home runs. Cabrera has 25 RBIs, 28 runs scored, 14 walks and 54 strikeouts. He has also been successful in five of six steal attempts.
In 50 games at shortstop, Cabrera has made three errors while participating in 29 double plays. He owns a .983 fielding percentage.
"He's doing everything in his power -- from sitting in the chair playing catch, to, you know, everything," Francona said. "He's been so diligent and so conscientious that he'll be back as quick as humanly possible. And I think that original three to four weeks is probably pretty, pretty close."
Mark Emery is an associate reporter for MLB.com. This story was not subject to the approval of Major League Baseball or its clubs.