Swisher gets breather to work through shoulder issue
Swisher gets breather to work through shoulder issue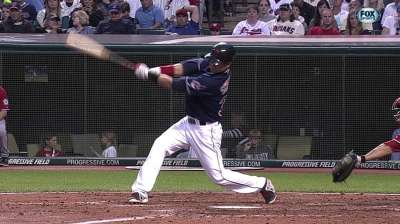 CLEVELAND -- It seems as though the sore left shoulder that bothered Nick Swisher earlier this season never fully went away.
In the fifth inning of Saturday's 7-6 loss, Swisher clearly aggravated his shoulder while batting against Jordan Zimmermann. Tribe manager Terry Francona said afterward that Swisher would be able to play on Sunday, but he wound up giving him the day off anyway.
"I'm grinding," said Swisher, who has started every game since May 23. "I want to be in there every day, regardless of what I got going on. Obviously, it's starting to physically show a little bit.
"I've been kind of battling this shoulder thing all year, which has been super frustrating for me because I've never had something like this before."
Entering Sunday, Swisher was batting .237 (53-for-224) with seven home runs and 24 RBIs. In his last 15 games, Swisher is 6-for-64 at the plate with 18 strikeouts.
"I just don't feel like I have that thump in my swing, and that's a frustrating thought for me, because I like to let it rip every now and then," Swisher said. "We're just doing our treatments, man, trying to get better every day. We met with the doctors and this and that. We're just going to see what tomorrow brings.
"Whatever decision we make tomorrow, hey, we're just going to go at it full on."
Mark Emery is an associate reporter for MLB.com. This story was not subject to the approval of Major League Baseball or its clubs.