Francona favors pitchers' comfort with safety
Francona favors pitchers' comfort with safety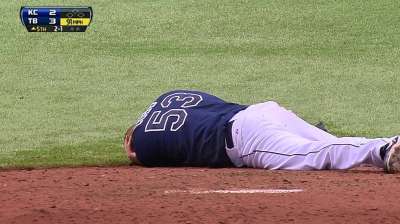 CLEVELAND -- A few days after Rays right-hander Alex Cobb was struck in the right ear by a fast-moving liner, Indians manager Terry Francona discussed the delicate safety issue facing Major League Baseball.
Francona couldn't say whether incidents such as those involving Cobb or J.A. Happ or Brandon McCarthy are happening with more frequency, or if they're simply being noticed more. The skipper did say that, whatever measures are taken, the league should take care not to make pitchers uncomfortable on the mound.
"I think something like a skullcap -- in the meantime -- couldn't hurt," Francona said before Monday's series opener against the Royals. "The old players used to wear them. If you got something that was comfortable, even though it wouldn't be the end-all, be-all, it wouldn't help every situation, it might alleviate or ease some of impact on some of the balls."
Francona doesn't have a long term answer for how to more effectively keep pitchers out of harm's way. But he seemed concerned about what's happened to so many hurlers and open to any practical possibility that might cut down on the likelihood of a pitcher sustaining brain trauma, as McCarthy did last September.
"A concussion's not good, but a concussion is better than something worse," Francona said. "I'd be in favor of whatever they can do that doesn't get in the way, and that's difficult."
Mark Emery is an associate reporter for MLB.com. This story was not subject to the approval of Major League Baseball or its clubs.