Francona likes catcher Santana's athleticism
Francona likes catcher Santana's athleticism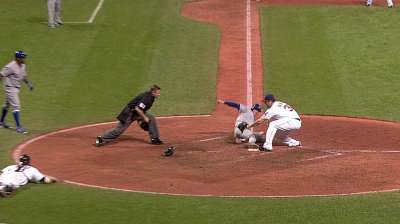 CLEVELAND -- Indians manager Terry Francona was asked about Carlos Santana's prowess behind the plate on Tuesday, a day after a wild pitch went through his legs and gave Kansas City the go-ahead run in the ninth inning of its 2-1 victory in the series opener.
In 43 games at catcher, Santana has been charged with four passed balls and 29 wild pitches have gotten away from him. He has also committed two errors, while throwing out just four of 30 runners on stolen base attempts.
Specifically, Santana's ability to block balls in the dirt was brought into question on Tuesday.
"He's very athletic," Francona said. "He moves laterally about as good as anybody you're going to see.
"At times -- and again I'm not a catching instructor, but I listen to Sandy [Alomar Jr.] talk -- he works from up to down sometimes instead of down to up, which you want, like all infielders, too. And they try to stay on him about that. But he's actually very athletic."
Indians pitchers are averaging .67 wild pitches per game with Santana behind the plate. That number falls to .31 in games caught by Yan Gomes, the Tribe's backup.
For further comparison, Detroit's Alex Avila has caught 48 games, during which time there have been five passed balls and 16 wild pitches. With Avila at catcher, the Tigers have averaged .33 wild pitchers per game.
Entering Tuesday, Cleveland had uncorked a Major League-leading 38 wild pitches. No catcher in the game has been behind the dish for more wild pitches than Santana.
On Monday, the Royals and Indians were tied at 1 in the ninth. On a 1-2 pitch to Miguel Tejada, Tribe reliever Matt Albers bounced a curveball that got past Santana, allowing Elliot Johnson to sprint home for the go-ahead run.
"It scooted on him," Francona said. "I think he felt really bad when the game was over. You go back and look at it, it kind of skidded on him. ... He thought it was going to come up and it didn't."
In the third inning of Tuesday's game, the Royals scored a pair of runs on two wild pitches from starter Ubaldo Jimenez. The first one moved runners to second and third. Then, after a run-scoring groundout, the second one enabled Alex Gordon to go the final 90 feet from third base to home plate.
Mark Emery is an associate reporter for MLB.com. This story was not subject to the approval of Major League Baseball or its clubs.