Santana continues to raise offensive game
Santana continues to raise offensive game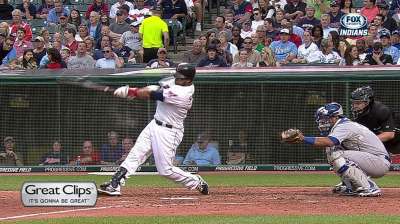 CLEVELAND -- Indians catcher Carlos Santana extended his hitting streak to 10 games when he lined a fastball into right field for a single during the second inning of Tuesday's 4-3 win over the Royals.
Over his past 10 games entering Wednesday's series finale, Santana batted .324 (11-for-34) with four doubles and two homers. The catcher also has seven RBIs and three runs during the career-best streak, which began on June 8 at Detroit.
The streak ended in Wednesday's 6-3 win over Kansas City, when Santana went 0-for-3 with a bases-loaded walk and two strikeouts.
"What he does from the catcher's position, offensively, is probably, I don't know, it's got to be about as good as anybody in the league," Indians skipper Terry Francona said. "He grinds out at-bats so well. His walk-to-strikeout rate is so good, and he's, what, third in the league in walks. That's hard to do."
Santana has 51 strikeouts and 39 walks, four fewer than American League-leader Miguel Cabrera. Among AL catchers, Santana is near the top in most offensive categories, and no other backstop in the league can top his .496 slugging percentage.
Lately, Santana has hit like the same player who batted .395 with five home runs over the season's first 21 games. A .180 average during the next 29 games dropped Santana's season total to .273, but he has since lifted it to .285.
When Santana was slumping, Francona talked about the physical toll that comes with the catcher's position and how it has a tendency of wearing players down. Whether that was the case, Santana hasn't appeared to be too uncomfortable at the plate over the last couple weeks or so.
"If you make a mistake, he hits it," Francona said. "There's a lot of things offensively that he does that's really good. If he were a position player, he'd still be a good player. But the fact that he's a catcher makes him a great player."
Mark Emery is an associate reporter for MLB.com. This story was not subject to the approval of Major League Baseball or its clubs.