Indians being cautious with Swish's shoulder
Indians being cautious with Swish's shoulder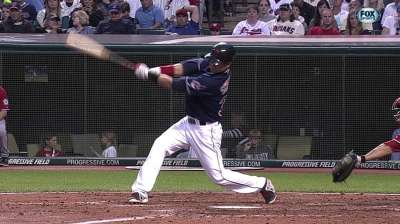 CLEVELAND -- Nick Swisher's left shoulder injury is the type of issue that could linger throughout the remainder of the season. That's why the Indians are taking a cautious approach while their first baseman learns how to manage the problem to the point where he can play every day without pain.
On Friday, Swisher was out of the starting lineup for a sixth straight game, but he took swings in the batting cage on the field before the Tribe faced the Twins. Cleveland manager Terry Francona said there is a chance, if head athletic trainer Lonnie Soloff approves, that Swisher could be back in the mix on Saturday.
"If [Swisher] shows up [Saturday] and he feels really good," Francona said, "I would say then, 'We'll see,' again. If he feels great, and Lonnie is on board, OK. But the good news is, he's doing well, so you're going to see him playing pretty soon."
Swisher estimated that he took around 50 swings off a tee at the ballpark on Thursday, which was a scheduled off-day for the Indians. He has not tested his sore left shoulder -- an off-and-on problem this season -- with throwing, but he is not concerned about that aspect of his recovery. Swisher said the main concern is hitting.
"You can deal with the soreness and all that stuff," Swisher said. "The sharp pains is what we're trying to get rid of. Knock on wood, whatever they did in that time, it feels good right now."
Cleveland wants it to stay that way.
"When you sit a guy for four or five days, you want it to help," Francona said. "You don't want him to come back one day too early, let him take an aggressive swing and set yourself back. So I need to use some judgment there, where it doesn't put him in a spot that sets him back. So we'll see.
"I think that he's going to have to manage it all year. I think that he understands that. And I think now that he understands that, it'll help. Not that he just picks up and goes and plays, but this is going to have to be part of his routine."
Francona noted that he will lean against using Swisher in right field for a while. If that changes, the manager said he will be sure to give Swisher plenty of notice.
Swisher has hit .237 with seven home runs, 14 doubles and 24 RBIs through 61 games after signing a five-year, $56 million contract over the winter. He last played on Saturday against the Nationals, and he has hit .134 (9-for-67) with 20 strikeouts in his last 18 games.
Swisher is more than ready to put this latest episode behind him.
"Whatever we decide, I'll do it," he said. "We're right on that door."
Jordan Bastian is a reporter for MLB.com. Read his blog, Major League Bastian, and follow him on Twitter @MLBastian. This story was not subject to the approval of Major League Baseball or its clubs.