Stubbs' speed, instincts pay dividends on basepaths
Stubbs' speed, instincts pay dividends on basepaths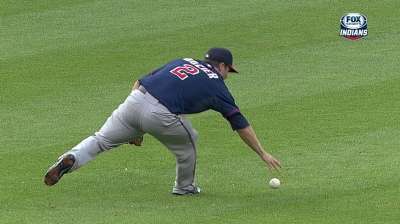 CLEVELAND -- There have been three instances in the Major Leagues this season where a baserunner tagged up at third base and scored on a sacrifice fly to a second baseman. As this piece of trivia was being relayed to Indians outfielder Drew Stubbs, he smiled ever so slightly.
"I've got two of them," Stubbs said.
It is a rare feat that requires a combination of instincts and speed -- a pair of attributes that Stubbs consistently displays on the basepaths for Cleveland. Stubbs came through again in the third inning of the Tribe's 5-1 victory over the Twins on Friday night, when Jason Kipnis sent a soft flyout to second baseman Brian Dozier.
Dozier made the catch easily, saw Stubbs sprint for home and dropped the ball on the transfer.
The was enough of a window for Stubbs to score the Indians' second run of the game.
"That was an unbelievable piece of baserunning," Indians manager Terry Francona said. "He has no business scoring right there."
Truth be told, Stubbs did not plan on scoring on that play. He said his initial goal was to tag up and sprint for a couple steps to see what Dozier would do. Stubbs did not need to position himself halfway to the plate, because if Dozier had not made the catch, the Tribe outfielder would have been able to jog home for an easy run. When Minnesota's second baseman dropped the ball, Stubbs simply kept going.
"I was not anticipating scoring," Stubbs said. "Once I saw the ball come out of his glove and hit the ground, I knew that with the break that I got, that I probably had a good chance to score."
Stubbs also scored on a sacrifice fly to Yankees second baseman Robinson Cano on June 3 in New York.
Friday's run was another example of how Stubbs' speed can put pressure on the defense. He also can affect a pitcher when he is on first base. Earlier in the third inning, Stubbs drew a leadoff walk and sprinted from first to third base on a single from Michael Bourn. Francona noted that Twins starter Samuel Deduno used a drastic slide step with Stubbs on first and subsequently elevated a pitch that Bourn was able to attack.
"Deduno did a really good job of not allowing Stubbs to run," Francona said. "But at the same time, he left a ball up to Bourny that he hit through the hole. To that point in the game, he hadn't left anything up. And then he glided into third. He goes first to third as good as anybody in the league. So his speed plays in all facets of the game."
Jordan Bastian is a reporter for MLB.com. Read his blog, Major League Bastian, and follow him on Twitter @MLBastian. This story was not subject to the approval of Major League Baseball or its clubs.