Actor Costner visits Tribe, Progressive Field
Actor Costner visits Tribe, Progressive Field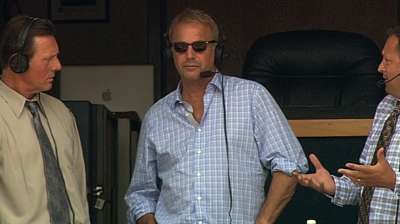 CLEVELAND -- Kevin Costner donned Indians gear on Sunday morning, looking more like a coach than the baseball players he portrayed on the big screen in years past. In the batting cage at Progressive Field, Costner looked to have the swing of a much younger man.
The actor was simply happy to send a few baseballs bouncing around the ballpark.
"I was actually glad I made contact," Costner said with a smile. "I hadn't swung in a couple years. I thought my chances of swinging through the ball were just as good as fouling it off."
Costner, 58, is in Cleveland filming the movie "Draft Day," which is scheduled for release next year. In the film, he plays the general manager of the NFL's Cleveland Browns. It will be another entry to the growing list of sports movies Costner has made over his long career. In baseball circles, he is best known for "Bull Durham" (1988), "Field of Dreams" ('89) and "For Love of the Game" (1999).
Prior to Sunday's game against the Twins, Costner played catch in the outfield, gloved some grounders at third base and took batting practice. He chatted with a handful of Cleveland's players on the field, and noted later that he has been in the stands for several Tribe games this season.
Costner has liked what he has seen from the Indians.
"I really think this team can win the division," Costner said. "I've watched a lot of baseball and they have a couple good pieces of DNA. One of them is they come from behind. Not all teams can do that. They've got the right amount of athletic arrogance to do that. ... I think they can run Detroit down. I think they can play. It's really up to them."
Costner said he has a few friends from Cleveland, so he has had that tie to the city for the past 25 years. The actor added that he always enjoys his trips to Ohio.
"Cleveland has been great to me. I like the town," Costner said. "I told my wife how fun it is to walk around. I'm not a drinker. I think you have to drink to fit in here."
Jordan Bastian is a reporter for MLB.com. Read his blog, Major League Bastian, and follow him on Twitter @MLBastian. This story was not subject to the approval of Major League Baseball or its clubs.