Kipnis returns to hometown city of Chicago
Kipnis returns to hometown city of Chicago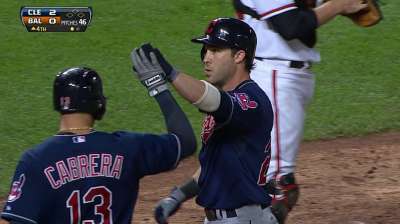 CHICAGO -- After Thursday's 78-minute rain delay in Baltimore caused the Indians to arrive into Chicago late at night, Jason Kipnis just wanted to rest. Even with his hometown Blackhawks' championship parade invading the streets of Chicago on Friday, he said his preparedness for the Indians' doubleheader was more important.
"Unfortunately, I didn't get to catch any of the action this morning, but I told the guys if the Stanley Cups winds up in the ballpark over the weekend, I'm running to go see it," Kipnis said. "I saw videos of the scene on Clark after they won. It was crazy."
Kipnis grew up in Northbrook, Ill., but like many Chicagoans, he only recently entered die-hard status during the hockey team's run of success over the last five years. The 'Hawks weren't on TV when Kipnis was younger, but he did his best to follow the team during its run in the early '90s, when Chris Chelios and Jeremy Roenick skated for Chicago.
The Indians need Kipnis' bat to be fresh for both of Friday's games -- he has reached base safely in 29 consecutive contests. A Cleveland player hasn't had a streak of 30 consecutive games with a walk, hit or hit by pitch since Ryan Garko did it for 32 games in a row from Aug. 14-Sept. 24, 2008.
"He started out the first four or five weeks just scuffling," Indians manager Terry Francona said. "You'd tell him, 'Relax, it'll be fine.' Good players have a way of getting to their level. It's amazing how it works. He's rising to that level until he got really hot."
Entering play on Friday, Kipnis was batting .388 with three home runs and 12 RBIs in 13 career games in Chicago.
Ethan Asofsky is an associate reporter for MLB.com. This story was not subject to the approval of Major League Baseball or its clubs.