Kipnis turning page following stellar June
Kipnis turning page following stellar June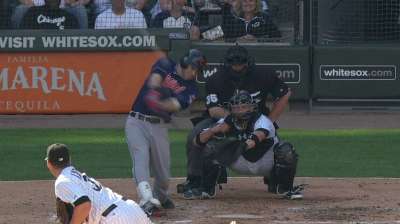 KANSAS CITY -- In the wake of his incredible June showing, Indians second baseman Jason Kipnis has heard some of the comparisons. Names such as George Sisler, Tris Speaker and Ty Cobb have come up when researching previous months similar to the one Kipnis just fashioned.
"It's pretty cool to hear your name in the likes of some of the other ones and how many years it's been," Kipnis said prior to Tuesday's series opener against the Royals. "Any time you're in a sentence with Ty Cobb, more times than not, it's usually a good thing. More times than not. In this case, it's a great thing.
"It was a great month. I definitely enjoyed it. I definitely love the fact that we are winning games and we're in first place now. But, it's July now. New month. I get to start back over in terms of that. Hopefully the team keeps some momentum going."
Across the month of June, Kipnis posted a slash line that included a .419 batting average to go along with a .517 on-base percentage and a .699 slugging percentage. The second baseman also mixed in four home runs, 12 doubles, one triple, 17 runs, 20 walks, 25 RBIs, 39 hits and nine stolen bases.
Dating to 1916, the only other players to post a slash line that good with at least nine stolen bases in one month are Sisler (June 1920) and Cobb (June 1917). The only other hitters in Indians history to match Kipnis' slash line in a single month are Speaker (July and September 1923) and Joe Sewell (August 1923).
Over the past 20 seasons, only Barry Bonds (August 2002) and Frank Thomas (May 1997 and May '94) have matched Kipnis' slash line with at least 20 walks and 25 RBIs.
"There was no big drastic change in approach or my swing that has led to this," said Kipnis, who entered Tuesday hitting .299 after having a .189 average on May 1. "When I'm going well, in the past I've been prone to either get greedy with some swings or go away with the approach that's working in certain situations. This time I've stayed the same game in, game out against lefty or righty.
"There's been some times where I've wanted to pull the ball, but I've stayed with my approach and have stayed through the ball and have gone to left field. It's led to being a more consistent hitter in the last month. That's literally all it's been. It's been not wandering too far off the path that's working for me."
Kipnis is a strong contender for the American League's Player of the Month honor, especially after capturing a pair of AL Player of the Week awards in June. On Monday, Kipnis was named the AL's Player of the Week for the month's final week.
"He did it again? Good for him," manager Terry Francona said. "I know when he steps into the batter's box, we feel pretty good, and I think he does, too."
Jordan Bastian is a reporter for MLB.com. Read his blog, Major League Bastian, and follow him on Twitter @MLBastian. This story was not subject to the approval of Major League Baseball or its clubs.