Francona disagrees with Gardy on plate play
Francona disagrees with Gardy on plate play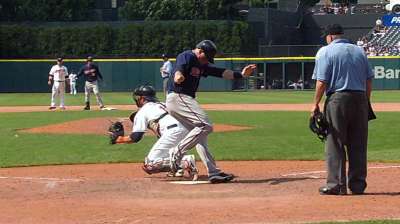 KANSAS CITY -- Indians manager Terry Francona would never want a player of his to do something on the field that could be considered a dirty play. If something like that happened, Francona would pick up the phone, call the other club's manager and apologize.
Francona does not see any reason to do so with Twins manager Ron Gardenhire, whom the Indians manager said he respects immensely.
During his 1500 ESPN radio show on Sunday, Gardenhire said he took exception to a play involving Indians catcher Yan Gomes and Minnesota's Ryan Doumit in Cleveland's 5-3 loss on June 23. In Gardenhire's view, Gomes blocked home plate without the ball in hand and Doumit sprained an ankle while attempting to score.
"I went back and looked, I'd bet you, 15-20 times," Francona said on Wednesday. "To be quite frank, I don't see that. I looked at it from every angle and Gomer never blocked the plate, and the throw took him from [one side to the other], but he still never blocked the plate. There was no contact.
"The kid [Doumit] stepped on home and it looked like he twisted his ankle, but Gomer never touched him and he never blocked the plate. I've known Gardy a long time, and that's part of the reason I went and looked at it so much.
"If it would've been something, I would've given him a call, but I can't find anything. I don't see anything there."
The play took place in the ninth inning, when Oswaldo Arcia doubled down the left-field line to bring Doumit home. The Twins catcher had to maneuver around Gomes and appeared to miss the plate, but he scrambled back and scored before the Indians catcher could tag him out.
Gardenhire felt Gomes put a leg in front of the plate at the last second.
"We had a great view from the dugout," Gardenhire told 1500 ESPN, "and the catcher didn't have the ball and at the last second he stuck his foot back on top of home plate. Just kind of reached out behind him and stuck his foot there before the ball got home. That's kind of one of those not good plays in baseball. [Doumit] ends up spraining his ankle and we were pretty upset about that.
"I was pretty disappointed in that because he ends up hurting my catcher on a silly play and I don't like stuff like that. ... I did not like the way the kid stuck his foot out and tried to trip our guy. That's not good baseball as long as I've been in the game."
Francona did not agree with Gardenhire's assessment.
"The whole plate was open," Francona said.
Jordan Bastian is a reporter for MLB.com. Read his blog, Major League Bastian, and follow him on Twitter @MLBastian. This story was not subject to the approval of Major League Baseball or its clubs.