Giambi's hitting has been timely for Indians
Giambi's hitting has been timely for Indians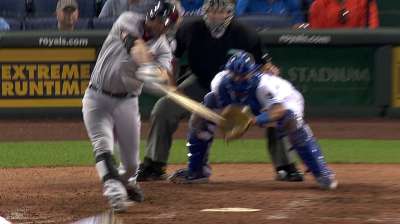 KANSAS CITY -- An examination of Jason Giambi's overall statistical line does not tell the whole story. If you suggest to Terry Francona that the veteran slugger is struggling, the Indians manager will make sure to point out Giambi's underlying production.
When he has come up with a hit, Giambi has made it count for Cleveland.
"He bears down so well in those at-bats," Francona said. "Very seldom do you see him leave the strike zone. He gets a pitch to hit and he gets in deep counts. And the more pitches he sees, the more dangerous he becomes."
Heading into Thursday's game against the Royals, the 42-year-old Giambi was batting just .208 with a .751 OPS this season. Over his past 20 games, however, the designated hitter was hitting .283 with a .411 on-base percentage, .609 slugging percentage and a 1.010 OPS.
The recent surge comes after Giambi hit .150 with a .543 OPS over his first 18 games. In the 20 games since those struggles, he has piled up four home runs, three doubles, eight walks, eight runs and 10 RBIs through 56 plate appearances.
Giambi also entered Thursday hitting .308 with runners in scoring position and two outs, and .360 with runners in scoring position as a whole.
Among American League hitters with at least 125 plate appearances this season, Giambi ranks sixth with an average of one RBI per 4.82 at-bats. The top five on that list include Baltimore's Chris Davis (3.67), Detroit's Miguel Cabrera (3.85), Boston's David Ortiz (4.32), Boston's Mike Carp (4.68) and Toronto's Edwin Encarnacion (4.77).
"He doesn't have to hit .300," Francona said. "When guys are on base, I think he's a better hitter. I think that's just years of [experience]. When he sees guys on base, very few times has he left a guy on third with less than two outs. That really gets under his skin. He doesn't like that."
Francona is always quick to praise Giambi's veteran leadership, too.
"I can't tell you how many times I look up," Francona said, "and something will go maybe haywire, and the first guy on that step is Giambi, like waiting to reassure or correct. It helps me a ton, because when it comes from the manager, it's panicking or over-managing. When it comes from a teammate, it's being a good teammate. But, it's got to come from the right guy."
Jordan Bastian is a reporter for MLB.com. Read his blog, Major League Bastian, and follow him on Twitter @MLBastian. This story was not subject to the approval of Major League Baseball or its clubs.