Tribe calls up Carrasco, options Martinez
Tribe calls up Carrasco, options Martinez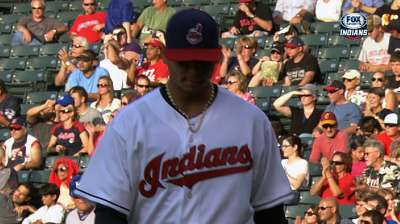 CLEVELAND -- The Indians announced after Friday's game that reliever Joe Martinez was optioned to Triple-A Columbus to make room for Carlos Carrasco, who will be recalled to start Saturday afternoon against Detroit.
In five starts for Cleveland this season, Carrasco is 0-3 with an 8.17 ERA. Across 25 1/3 innings, the right-hander has issued 12 walks and 13 strikeouts, and opponents are hitting .336 against him. With the Clippers, Carrasco has a 2-0 record and 3.10 ERA over 11 outings (nine starts).
Carrasco's finest performance for the Indians this year came on June 17, when he held the Royals to a run and four hits in 7 1/3 innings of work.
"That's probably a little bit much to ask for every outing, but boy, I'll tell you what, that's what we've kind of been hoping for," Tribe manager Terry Francona said afterward.
As for Martinez, the righty made two appearances with the Indians since his contract was selected on June 29. Martinez allowed two hits in two innings that day and on Friday gave up a run and two hits in three innings against the Tigers.
"You know what, he did a good job," Francona said. "He throws strikes, he works quick, he behaves himself. [I] just told him, I said, 'Guys like you, you find your way back to the big leagues.' Just because we like having him around. He'll take the ball. You know he's going to throw it over the plate. He did a good job."
Mark Emery is an associate reporter for MLB.com. This story was not subject to the approval of Major League Baseball or its clubs.