Prospect Salazar making first Majors start Thursday
Prospect Salazar making first Majors start Thursday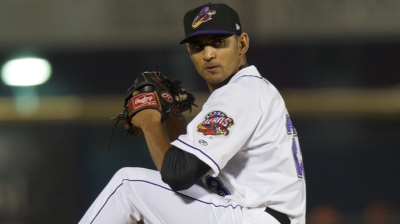 CLEVELAND -- Danny Salazar is going to start his first Major League game on Thursday afternoon against Toronto.
Tribe manager Terry Francona announced Salazar as the starter before the Indians opened a three-game set against the visiting Blue Jays on Tuesday. Salazar, Cleveland's eighth-best prospect according to MLB.com, is 3-2 with a 3.40 ERA across 10 starts for Triple-A Columbus this season. In 42 1/3 innings, the right-hander has 49 strikeouts against 13 walks.
"He's getting a lot of strikeouts," Francona said. "He's got good velocity. He's got all the tools. He's only probably up to 85-90 pitches. We have to be cognizant of that, especially pitching at a level where you know he's going to be amped up. But his future is really bright."
Salazar, 23, also started seven games for Double-A Akron this year. In those outings, he went 2-3 and compiled a 2.67 ERA. He racked up 51 strikeouts while issuing 10 walks over 33 2/3 innings.
The Indians also announced on Tuesday that Salazar was named the organization's Minor League Player of the Week for July 1-7, during which he went 2-0 while keeping his opponents to three hits and no runs over 10 total innings.
Francona said that Salazar will probably be sent back down after starting on Thursday. When that happens, he'll return to the same squad as Carlos Carrasco, who would have been the starter on Thursday, but was designated for assignment and optioned to the Clippers after another disappointing outing. In six starts with the Indians, Carrasco has an 0-4 record and a 9.10 ERA.
When Cleveland decided to have Carrasco take his next turn in the Minors, Salazar got his shot.
"When the coordinators had come through a couple weeks ago, that was one of the topics -- was he ready to handle one of these spot starts, and it was a unanimous 'yes,'" Francona said. "So, we're kind of excited."
Mark Emery is an associate reporter for MLB.com. This story was not subject to the approval of Major League Baseball or its clubs.