Chisenhall posting impressive numbers since callup
Chisenhall posting impressive numbers since callup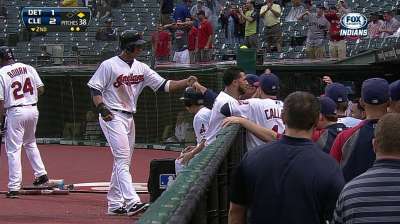 CLEVELAND -- Lonnie Chisenhall dug into the box on Monday with two outs on the scoreboard and two teammates on base. It was the second inning, and the Indians trailed Detroit by one run. About 60 feet away stood Max Scherzer, the owner of a perfect 13-0 record.
Chisenhall took a changeup for a ball before falling into a 1-2 count after a couple of heaters from Scherzer. Then came four more fastballs, three of which clocked in at 99-mph. Chisenhall fouled the next three off and took the fourth for a ball, as Mike Aviles and Michael Brantley moved up by stealing second and third. At that point, Scherzer stepped off the mound to speak to an umpire, and a 20-minute rain delay commenced.
When play resumed, Scherzer followed his six straight four-seamers with an 89-mph changeup, which Chisenhall smoked into right field. In came Brantley and Aviles, and the Tribe grabbed a 2-1 lead.
"That was a hard at-bat to go up there after sitting for that long," said Tribe manager Terry Francona, who's been generally pleased with how Chisenhall has hit since being recalled from Triple-A Columbus on June 18.
"It was kind of a weird at-bat," Chisenhall said. "It started raining right in the middle of it. He kept challenging me before the rain delay. Fastballs, fastballs. They called it, and I wasn't very happy. Kind of in the middle of the at-bat, we're both battling.
"I mean, right after the rain delay, first-pitch changeup, and I got the barrel on it, got a single to right. It was awesome. We really needed it at that point. We went down 1-0 in the top there, so it was nice to get something going and get the wheels going."
In 17 games since his callup, Chisenhall, 24, owns a .293/.339/.500 slash line with six doubles, two homers, nine RBIs, four walks and 11 strikeouts. The numbers signify a pretty dramatic turnaround for a player who started the season as the Tribe's Opening Day third baseman before his demotion on May 13.
At that point, Chisenhall was hitting .213 with four doubles, three home runs, 11 RBIs, three walks and 11 strikeouts over 26 games.
"I feel good right now," Chisenhall said. "Baseball's a tough sport. It comes and goes as it pleases sometimes. But right now, I feel good in the box. I feel confident."
That's good news for the Indians and their manager, who feels Chisenhall could be a major building block in the organization's future.
"For the most part, when he's gotten pitches to hit, he's hit them, and he's laying off pitches out of the zone much better," Francona said. "If he gets a pitch to hit, he's going to have some success. He's got quick hands, and he's a pretty strong kid. When he swings at balls, again, middle of the plate, he's going to do some damage. And for the most part, he's done a pretty good job with that."
Chisenhall, who was selected by the Indians in the first round of the 2008 First-Year Player Draft, made his Major League debut in 2011. In 152 career games, he's put together a .255 average to go along with 58 RBIs and 17 homers.
"When I'm going good, I'm not going out of the zone too much," Chisenhall said. "I put together some good at-bats. I think two or three nights ago, I saw close to 30 pitches. When I'm going well, I'm fouling off pitches that are tough to hit and hitting my pitch. I'm starting to feel good as of late."
Mark Emery is an associate reporter for MLB.com. This story was not subject to the approval of Major League Baseball or its clubs.