Perez locking things down in Indians' bullpen
Perez locking things down in Indians' bullpen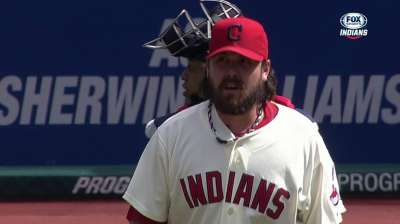 CLEVELAND -- Chris Perez has basically been a model closer since coming off the disabled list on June 27.
With the Tribe holding a two-run lead on Saturday night against the Royals, Perez entered in the ninth inning and used 12 pitches to retire David Lough, Alex Gordon and Alcides Escobar, the last of whom looked at a 92-mph fastball for strike three to end a 5-3 Tribe win.
In 10 outings since his return from right shoulder inflammation -- including his 13th save in the Indians' 6-4 win over the Royals on Sunday -- Perez is 7-for-7 in save opportunities and owns a 0.90 ERA. He has issued three walks with eight strikeouts, with the lone run on Thursday, when the Tribe held a three-run lead against the Blue Jays.
"I think he's really staying down in the zone extremely well," Indians manager Terry Francona said after Saturday's win. "When they hit the ball, you're not getting it in the air with much authority. He looks really good. He's pitched, I think, six out of eight days [before Sunday]. He's done a really good job."
Since throwing a scoreless inning during the Tribe's 9-4 loss to Detroit on July 6, Perez has made seven appearances in a span of nine days. Excluding the long hair and thick beard, the closer has lately borne little resemblance to the pitcher who gave up four runs in two-thirds of an inning on May 26 at Fenway Park.
Perez went on the 15-day disabled list the next day, which seemed to explain why the veteran had posted a 13.50 ERA in the five-outing stretch that ended with the meltdown in Boston. Shoulder discomfort resulted in a shortened Spring Training for Perez, as well, and Indians pitching coach Mickey Callaway said the two injuries have combined to make this season challenging for the closer.
But Perez appears to be healthy now, and his recent performances are improving his season numbers. Across 26 2/3 innings over 27 games, he has a 3.04 ERA and 13 saves in 15 opportunities. Perez also has 26 strikeouts and 13 walks, while posting a 1.35 WHIP and keeping opponents to a .225 batting average.
"Right now, he's only at 25 innings and just almost kind of getting his feet wet," Callaway said before Sunday's finale of the first half. "This is the first time he's been out there consistently. I think it's starting to show up. His command's back. He's locating down in the zone. He's been really solid. It's good to have him back."
Mark Emery is an associate reporter for MLB.com. This story was not subject to the approval of Major League Baseball or its clubs.