Swisher bumped up to No. 2 spot in batting order
Swisher bumped up to No. 2 spot in batting order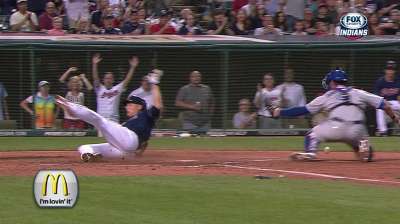 SEATTLE -- Indians manager Terry Francona has finally pulled the trigger on a lineup change that he has mulled for several weeks.
On Monday, Francona moved struggling first baseman Nick Swisher out of the cleanup spot and slid the switch-hitter up to the second slot in the order for the opener of a three-game series with the Mariners. Swisher, who has spent significant time in his career as the second hitter, was open to the change.
"We're just kind of switching it up a little bit and hopefully we're just going to roll out from here," Swisher said. "It's been a great year for us as a team in general. We want to just continue to keep that going. This might just be a quick change. This might be a change for the long term. Either way, man, I'm all for it."
Francona said before the game that he hoped the switch can get Swisher going again at the plate.
Through 82 games this season, Swisher has hit .238 with nine home runs and 31 RBI for the Indians, who signed him to a four-year, $56-million contract over the winter. Since June 1, Swisher had hit just .198 with a .584 OPS through 34 games for Cleveland, entering Monday.
Swisher made Francona look smart in the first inning on Monday, sending a pitch from Aaron Harang over the wall in left field for a solo home run in his first at-bat.
Swisher spent 72 games in the cleanup spot for the Indians entering Monday, but had appeared in more games (306) as a No. 2 hitter than any other lineup position in his career. Given Swisher's ability to take pitches and post a solid on-base percentage, Francona liked the concept of putting him between left-handed hitters Michael Bourn (leadoff) and Jason Kipnis (third).
Switch-hitting shortstop Asdrubal Cabrera had been batting second, but Francona moved him to the cleanup spot.
"I think this has a chance to help Swish get moving in the right direction," Francona said. "I feel like, to be honest with you, we could leave Swisher where he is. He's going to get hot, because he's a good hitter. I think this has a chance to help him and help us. Swish is going to hit. He's got a track record.
"I just think this puts us maybe in a little better position to score runs, because as a team we need to keep the line moving. That's the type of team we are. I just think right now this plays a little bit to his strengths and our strengths."
Swisher has played through a left shoulder issue this season, but said he has been feeling much improved lately.
"I feel great, man. I think everything is getting back on track," Swisher said. "I'm not an excuse guy. I'm paid to do a job, whether you play through pain. I'm sure everyone in here is playing through some sort of pain, but for mine, it was a little different. It's something I've never had before. I've just got to bounce back, man."
Jordan Bastian is a reporter for MLB.com. Read his blog, Major League Bastian, and follow him on Twitter @MLBastian. This story was not subject to the approval of Major League Baseball or its clubs.