Asdrubal picked over Santana for cleanup
Asdrubal picked over Santana for cleanup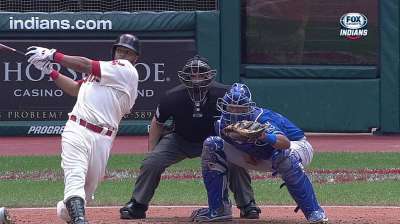 SEATTLE -- The Indians had a vacancy in the cleanup spot after manager Terry Francona moved Nick Swisher into the lineup's second slot on Monday. Francona weighed his options and went with switch-hitting shortstop Asdrubal Cabrera.
Cleveland catcher Carlos Santana also hits from both sides of the plate and spent the bulk of last season as the Tribe's cleanup man. Francona said he considered Santana for the role, but the manager did not want to pile too much responsibility on the catcher.
"I think he's a good hitter wherever you hit him," Francona said of Santana. "A guy that's catching and hitting cleanup, you're asking a lot. Catching is first. So then when you flip around and put a guy cleanup, you're kind of going against what you're saying.
"There's been times we've hit him cleanup out of necessity. There's been times we've hit him cleanup when he's been [the designated hitter]. But when he's catching, I'd prefer to hit him down farther."
Entering Tuesday, Santana had a .270/.379/.457 slash line to go along with 11 home runs, 36 extra-base hits, 42 runs, 44 RBIs and 55 walks through 92 games. He also had spent 81 games in either the fifth or sixth spot, hitting .276 with an .825 on-base plus slugging percentage combined in those roles.
Last year, Santana hit .236 with a .744 OPS in 81 games in the fourth spot for the Tribe.
"I just think it's sending the wrong message," Francona said of putting Santana back in the cleanup role on a full-time basis.
Cabrera entered Tuesday with career lows in batting average (.244) and on-base percentage (.305) through 75 games for the Indians. Over his past 62 games, however, the shortstop had hit .271 with a .760 OPS, which is near his career marks of .275 and .752, respectively. Heading into Tuesday's action, Cabrera was hitting just .143 over his past 15 games.
"That's just the way the game is," said Francona, noting that Cabrera has hit the ball hard lately with little to show for it. "It's a small sample size."
Jordan Bastian is a reporter for MLB.com. Read his blog, Major League Bastian, and follow him on Twitter @MLBastian. This story was not subject to the approval of Major League Baseball or its clubs.