Bevy of buyers complicates things for Tribe
Bevy of buyers complicates things for Tribe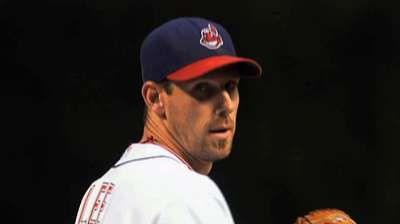 CLEVELAND -- Chris Antonetti is actively pursuing multiple avenues for upgrading the Indians' roster, but the general manager is running into the same issue as many clubs: The trade market is flooded with buyers and the asking price for available players is extremely steep.
That is the reality of the market's landscape as Wednesday's non-waiver Trade Deadline approaches.
"As we've looked at the 30 teams," Antonetti said, "you can make the argument that there are 24, or maybe even 25, teams that are either buying or at least holding on to players, and only a select handful of teams that are willing to trade off Major League players.
"It's further complicated for us that at least one, if not more, of those teams that are willing to sell players are in our division."
The addition of a second Wild Card team in each league -- implemented last season -- has created a situation where more teams remain in contention in July. Also complicating matters is the fact that players who are eligible for free agency at season's end no longer come with Draft-pick compensation attached to them.
The latter situation, which is an element of the most recent Collective Bargaining Agreement, has made teams more hesitant to part with top prospects.
"It has an impact on the value equation for a team," Antonetti said. "In the past, if you were to trade for a player who's approaching the end of his contract, you knew there was an opportunity at the end of that year to offer arbitration and potentially get a Draft pick to help back-fill some of the talent you may have traded.
"Obviously, that's no longer in place, so it affects, as a team that's buying, it affects maybe your tolerance for the caliber of young players you might be willing to give up."
Given the market's altered landscape, Antonetti said the idea of shifting the non-waiver Trade Deadline to a later date in the regular season will likely be discussed again in the offseason.
"We've talked about that a lot," Antonetti said. "We've talked about it at each of the last two GM Meetings, that exact topic. So I imagine it'll be a topic for discussion again this fall, especially now that we have two years with the new CBA rules. I anticipate it's something we'll talk about again in November."
Jordan Bastian is a reporter for MLB.com. Read his blog, Major League Bastian, and follow him on Twitter @MLBastian. Mark Emery is an associate reporter for MLB.com. This story was not subject to the approval of Major League Baseball or its clubs.