Day after faltering, Smith comes through for Tribe
Day after faltering, Smith comes through for Tribe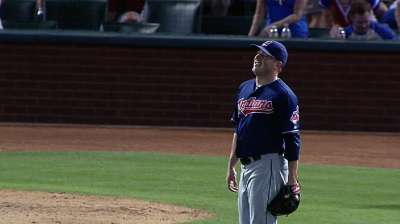 CLEVELAND -- Joe Smith sought out Indians manager Terry Francona Saturday afternoon and had a request. If possible, the setup man wanted to get into that night's game against Texas to try to shake off his recent struggles.
"Smitty actually came into my office," Francona said. "He goes, 'Please let me pitch.'"
Francona found a spot for Smith in the eighth inning, when the Rangers had a runner on first base with two outs and Cleveland was clinging to a 1-0 lead. Starter Justin Masterson had reached 113 pitches in a strong effort, but right-handed slugger Adrian Beltre was looming in the batter's box.
With the hitters due up after Beltre, and the available hitters on Texas' bench, Francona felt it was an opportune time to hand the ball to Smith.
"I just thought, you know what? [Masterson's] done such a good job," Francona said. "Let Smitty come in and get the righty and get out of there."
Smith had his trepidations, but only in light of how Masterson was dealing.
"I wanted to get in there," said Smith, who had posted a 7.59 ERA across his previous 13 appearances. "But Masty was throwing the ball so well. It was one of those games where you almost don't want to get in there. You just want to see him do his thing."
In Friday's 11-8 win in 11 innings, Smith entered in the eighth and gave up two runs to allow Texas to pull the game into an 8-8 deadlock. One night later, it took Smith three pitches to get Beltre to fly out to the warning track in left field to end the eighth.
"It was nice," Smith said. "It was nice to find out that the bat isn't made of all barrel, that it has some end on it."
Asked if it was a good pitch, Smith let out a slight laugh.
"No. It was up and down the middle," Smith said. "He just hit it off the end. That's one of those things where, if you're going bad, sometimes you just need that ball that's right down the middle, for them to pop it up, to get you going. I still feel good. I've just got to make my pitches."
Jordan Bastian is a reporter for MLB.com. Read his blog, Major League Bastian, and follow him on Twitter @MLBastian. Mark Emery is an associate reporter for MLB.com. This story was not subject to the approval of Major League Baseball or its clubs.