Indians' rotation turning heads with solid work
Indians' rotation turning heads with solid work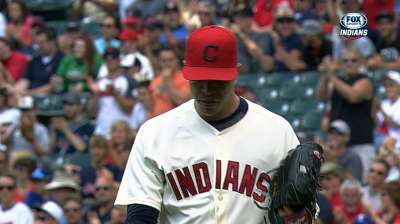 CLEVELAND -- Once thought to be an Achilles' heel, the Indians' starting rotation has perhaps been the club's most well-functioning component over the last few weeks.
In the 16 games before Monday, Cleveland's starters went 8-2 with a 1.79 ERA, while holding opposing hitters to a .181 batting average. As a whole, the staff has not conceded a run in 21 straight innings, the longest such streak since the 2008 team strung together 22 consecutive scoreless frames.
"They've given us a chance to win every night," manager Terry Francona said. "Even the nights when we kind of kick the ball around, or we didn't hit, we had a chance to win every game, because of our pitching. That's a good way to play."
The Indians are 10-6 during their past 16 games, during which the staff has combined for a Major-League leading 2.08 ERA and allowed just four homers. Cleveland lost five of those games by one run, with the other defeat being decided by two runs. The Tribe averaged just over seven hits and one error per game in its most recent six defeats.
But, as Francona said, that's hardly been the fault of his club's pitchers, particularly the starters. The ace, All-Star Justin Masterson, is 2-0 with a 1.27 ERA during his past three turns. In his last seven starts, Scott Kazmir is 3-0 with a 1.60 ERA. Corey Kluber has a 1-0 record and 2.67 ERA over his past five outings, while Ubaldo Jimenez has gone 2-1 with a 2.83 ERA across his last five appearances.
Monday's starter, Zach McAllister, had one start under his belt since returning from the disabled list, where he spent about seven weeks with a right middle finger sprain. Last Tuesday, he allowed eight hits and four runs (three earned) over five innings in a loss at Seattle.
"I like this group. I think they respect each other a lot, which is good," said Francona, who sees his starters often spending time together. "You can tell they care about each other."
Mark Emery is an associate reporter for MLB.com. This story was not subject to the approval of Major League Baseball or its clubs.