Francona aims to find balance with Reynolds
Francona aims to find balance with Reynolds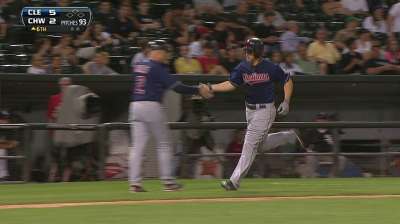 CLEVELAND -- Indians slugger Mark Reynolds watched from the bench as his teammates swept the Texas Rangers over the weekend.
An ineffective bat of late has resulted in less playing time for Reynolds, who was penciled into the No. 7 slot as the designated hitter on Monday, when the Tribe opened a four-game series with the White Sox. Before Monday, Reynolds had been held out for three straight games and seven of the past 11 contests.
"Everybody wants to play. My play lately has gotten me to the bench," Reynolds said. "I'm doing the best I can, hitting in the cage, hitting extra every day, just trying to keep comfortable with my setup and stay with my approach, not try and do too much when I do get in there."
In 41 games since June 2, Reynolds entered Monday hitting .159/.266/.203 with two home runs and six RBIs. That lack of production is the polar opposite of Reynolds' output during April, when he batted .301/.368/.651 with five doubles, eight homers and 19 RBIs. Reynolds began to cool off in May -- when he hit five home runs -- but he's been beyond frigid during the last two months.
Reynolds' slump has presented a tricky problem for manager Terry Francona, who knows how serious of a threat Reynolds can be at the plate and that further playing time is necessary for Reynolds to turn things around. At the same time, the Tribe has plenty of other capable hitters on its roster, and winning baseball games remains the primary goal.
So, what's Francona's plan for handling Reynolds?
"Quite honestly, I don't know," the skipper said. "I think we all feel like he's got that streak in him, and when he does, he's so dangerous. He can actually carry a team. Finding that, I know, probably takes getting some rhythm on his part.
"I told him this the other day. I was like, 'I'll do my best.' It's like you try to strike a balance between knowing that you have a guy that has a dangerous bat, hasn't been swinging it, you have other guys that have, so you kind of walk that fine line. I'm going to do the best I can."
Three of Chicago's scheduled starters in this series are left-handers. Francona said he's going to take advantage of that, with regards to the right-handed-hitting Reynolds, though his batting average against southpaws is just five points higher than it is against righties.
Meanwhile, Reynolds is simply happy to go out and play. After signing a one-year deal with the Indians in the offseason, he has dealt with more adversity than he'd probably like during his first season in Cleveland.
"In the past, when I struggle, they still threw me out there every day because they know I'm eventually going to get myself out of it," Reynolds said. "Hopefully, that guy that was in April and May can come back and help us down the stretch."
Mark Emery is an associate reporter for MLB.com. This story was not subject to the approval of Major League Baseball or its clubs.