Lack of DH not as important for Tribe this year
Lack of DH not as important for Tribe this year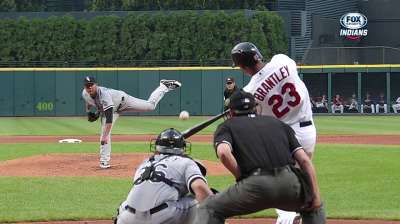 MIAMI -- The Indians faced a clear disadvantage in recent years when playing under National League rules. The lack of the designated hitter forced Travis Hafner into the role of pinch-hitter for Cleveland during Interleague games on the road.
Indians manager Terry Francona was not with the Tribe for Hafner, but he had the same situation when he had DH David Ortiz on his roster with the Red Sox.
The days of the prolonged Interleague road trips are over, though. This year, the realignment of the Astros from the NL Central to the American League West altered a change throughout the regular-season schedule. Interleague Play is now spread throughout the entire slate, making for shorter trips through the other league's guidelines.
"For three days, it's not the end of the world," Francona said on Friday. "They used to have the schedule where you played sometimes nine in a row, a 10-day trip. That was hard, man. You guys lived through it with Hafner. I had Ortiz. I thought it was very unfair.
"Now, you're here three games, and we're not really tied into a DH anyways. We're probably fortunate in a lot of regards."
This season, with Hafner now with the Yankees, the Indians have cycled through seven players in the DH role. Cleveland has constructed a roster filled with players who can handle multiple positions, creating a versatile group that is not effected much by Interleague Play.
During this three-game series in Miami, one thing Francona has kept in mind is the spacious dimensions at Marlins Park. The manager said having the fleet-footed trio of Michael Brantley, Michael Bourn and Drew Stubbs in the outfield will be important.
"That's a good way to start the series," Francona said of having all three in the lineup for Friday's series opener. "That's a big outfield."
Jordan Bastian is a reporter for MLB.com. Read his blog, Major League Bastian, and follow him on Twitter @MLBastian. This story was not subject to the approval of Major League Baseball or its clubs.