Chisenhall looking to heat up at the plate
Chisenhall looking to heat up at the plate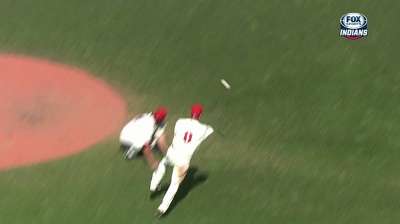 MINNEAPOLIS -- No Indians hitter was tearing the cover off the ball during the 1-6 homestand. But those games at Progressive Field were especially tough on third baseman Lonnie Chisenhall, who went 2-for-17, leaving him with a .120 average and one RBI in August after enjoying a solid July.
"When I came up, I was feeling good in the box," Chisenhall said, "and that kind of trickled away. We were winning games, and I was a little satisfied just winning games as a team. I've got more in the tank."
Despite the paltry numbers this month, Chisenhall, like the rest of this teammates, is ready to turn the page on the mostly forgettable week that was.
"It was a great win to kind of propel us into this road trip," he said. "You never know what's the turning point in your season until the end of it."
The release of Mark Reynolds, who started 40 games at third for the Tribe this season, likely secured more playing time for Chisenhall, but not any additional pressure to produce.
"It hasn't had any effect on me, really," Chisenhall said. "Mark is a good baseball player. That was a move they felt they needed to make. Mike [Aviles] has been playing well, so Mike's been filling in a little bit of that role that Mark was doing playing against lefties. Mark was a good baseball player, so I don't read too much into that move."
Kerry Walls is a contributor to MLB.com. This story was not subject to the approval of Major League Baseball or its clubs.