With Tribe, Rzepczynski pitching to his strengths
With Tribe, Rzepczynski pitching to his strengths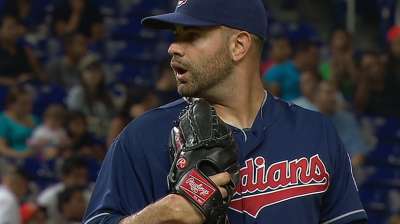 OAKLAND -- It is a small sample of work, but Marc Rzepczynski has lived up to the expectations that came with him after the Indians acquired the left-handed reliever from the Cardinals prior to the July 31 non-waiver Trade Deadline.
Rzepczynski has returned to pitching to his strengths, which is an approach he feels he strayed from during his time with St. Louis this season.
"I wasn't pitching my game," Rzepczynski said. "In the close games, I threw what I wanted. But I think sometimes I got a little happy with just throwing fastballs and trying to get outs."
Through seven inning with the Indians, Rzepczynski hasn't allowed a run while holding batters to a .091 (2-for-22) average. Left-handed hitters -- his primary responsibility -- have gone just 1-for-12 against the reliever in his time with the Tribe.
With Cleveland, Rzepczynski has thrown 59.8 percent fastballs compared to 73.1 percent while with St. Louis earlier this season. He has also increased the use of his slider (up to 29.9 percent from 23.4 with the Cardinals) and changeup (10.3 percent compared to 3.5 percent in St. Louis).
Rzepczynski said part of the issue was poor execution on the pitches called by Cardinals catcher Yadier Molina. The left-hander said he threw more fastballs with the Cardinals this year, because Molina steered the pitcher in that direction.
"That's what Yadi called," Rzepczynski said. "But, if you execute a pitch, sometimes they're not going to get hit. I was following his lead. The motto in St. Louis is that you just don't shake Yadi off. He's so good."
In 11 games with St. Louis this season, Rzepczynski posted a 7.84 ERA in 10 1/3 innings and lefties hit at a .294 clip against him along the way. The lefty said that right-handed batters were sitting on fastballs to the outer half of the plate and having success taking them to the opposite field.
"I think what happened to him," Indians bullpen coach Kevin Cash said, "just from talking to him, not that he blamed Yadi Molina, but he carries a lot of clout over there. Basically, you throw what he calls. I told him I could understand that, given [Molina's] reputation and everything. But over here, I said, 'You throw what you want to throw. Pitch to your strengths.'"
Rzepczynski emphasized that he was not blaming Molina for his struggles in St. Louis earlier this season.
"It's probably my fault for not throwing my game," Rzepczynski said. "Yadi's so good at what he does, but at the end of the day, I still have to throw what I want to throw. My strengths are I'm going to get righties to look away, but I'm going to also mix in some changeups and pound them inside when I have to. I wasn't doing that as much in St. Louis."
Jordan Bastian is a reporter for MLB.com. Read his blog, Major League Bastian, and follow him on Twitter @MLBastian. This story was not subject to the approval of Major League Baseball or its clubs.