Indians hope Asdrubal, Swisher start heating up
Indians hope Asdrubal, Swisher start heating up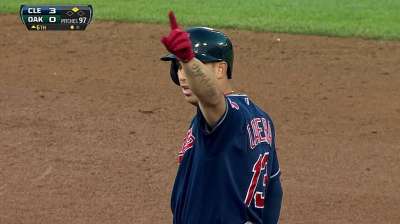 OAKLAND -- The Indians have endured hot and cold spells from both first baseman Nick Swisher and shortstop Asdrubal Cabrera throughout this season. Cleveland has been waiting for the day that both players heat up at the same time.
In Saturday's 7-1 victory over the A's, Swisher and Cabrera each finished with two hits and two RBIs, providing a glimpse of their potential as run-producers for the Tribe's streaky offense. Indians manager Terry Francona is hoping it was a sign of things to come for the pair of switch hitters.
"That was nice to see," Francona said. "If he and Swish heat up together, that'll really jump-start us."
Heading into Sunday's game in Oakland, Swisher was batting .242 with 13 home runs and 40 RBIs through 107 games. Cabrera was hitting at a .234 clip with nine homers and 46 RBIs through 98 games this season for the Tribe. It goes without saying that both performances to this point have fallen short of expectations.
Swisher and Cabrera played a key role in Saturday's win, though.
Swisher belted a solo home run in the first inning and added a run-scoring single in the ninth. Cabrera contributed an RBI single in the first and an RBI double in the sixth. It marked the first time this season that both players had at least two hits and two RBIs in the same game. In fact, it represented just the ninth game this season in which they tallied at least one RBI apiece.
Cabrera's showing on Saturday was especially encouraging, because it helped the shortstop end an 0-for-20 slump in the batter's box. Francona noted on Sunday that Cabrera has been dealing with soreness in his right side for the past few games, but said the issue is not considered serious.
"Everyone knows he's going through a rough patch," Swisher said of Cabrera. "His numbers don't speak for how good a player he is. For him to just kind of get on the board and get those knocks, it has to be a major confidence booster. We're going to need him down the stretch for sure."
Jordan Bastian is a reporter for MLB.com. Read his blog, Major League Bastian, and follow him on Twitter @MLBastian. This story was not subject to the approval of Major League Baseball or its clubs.