Stubbs looks back on Reddick's amazing throw
Stubbs looks back on Reddick's amazing throw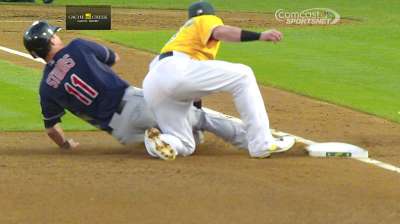 OAKLAND -- Indians outfielder Drew Stubbs resorted to an old baseball cliche when asked about the pinpoint throw that A's right fielder Josh Reddick used to throw him out in Saturday's win.
"You just have to tip your cap," Stubbs said.
When it comes to baserunning, that is something Stubbs does not have to do all that often. The fleet-footed right fielder made an exception for Reddick, who showed off a rocket of an arm to retire Stubbs at third base to complete an improbable double play in the fifth inning.
After leading off with a double, Stubbs tagged up at second when Michael Bourn pulled a pitch from Oakland's Dan Straily into right field. Reddick positioned himself perfectly and, after making the catch for the first out on the play, came up firing to third base. As Stubbs slid into the bag, there was only a small spot where Reddick's relay needed to be placed.
"And he hit it," Indians manager Terry Francona said. "He's always had a really good arm, and he gets behind the ball. He's a lot stronger than he looks. You see him in his uni, but then you get up close to him and, man, he's a strong kid."
Stubbs was as surprised as anyone to be doubled up on the play.
"Yeah, that rarely happens to me," Stubbs said. "After watching the replay, it was kind of one of those deals where there was really one spot for that throw to be to get me out. He made a great throw and [third baseman Josh] Donaldson hung in there to make the catch."
Stubbs also saw his streak of 13 consecutive successful stolen-base attempts snapped in the second inning, when A's catcher Stephen Vogt rifled a perfect throw to second base to nab the outfielder. In the ninth inning, Stubbs let out a sigh of relief when he barely beat a relay to the plate on an RBI single to right field from Nick Swisher.
"I was like, 'Man, I've been kind of snakebit this game,'" Stubbs said. "I was able to beat that one out, fortunately."
Stubbs, who entered Sunday hitting .246 with seven home runs and 38 RBIs in 116 games for the Indians this season, went 4-for-7 with three doubles through the first two games of this series in Oakland. Over his past seven games, Stubbs had posted a .318 average for the Tribe.
"I've just started to kind of lock it in a little bit," Stubbs said. "Hopefully, that's some foreshadowing of a good stretch for me. I'm getting back to the middle of the field and putting some good swings on the ball."
Jordan Bastian is a reporter for MLB.com. Read his blog, Major League Bastian, and follow him on Twitter @MLBastian. This story was not subject to the approval of Major League Baseball or its clubs.