Raburn providing surprising power to Indians' lineup
Raburn providing surprising power to Indians' lineup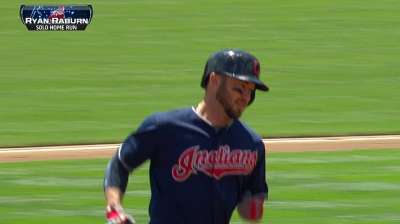 ANAHEIM -- Ryan Raburn is undoubtedly the most surprising source of power this season for the Indians. Take a closer look at the numbers and an argument could be made that the utility man is the most unexpected power hitter in the American League this year.
"He's a legitimate power bat," Indians manager Terry Francona said. "That's a nice part of a team to have."
During Sunday's 7-3 loss in Oakland, Raburn launched a solo home run off A's lefty Tommy Milone in the second inning. The blast was the 15th of the season for Raburn, pulling him into a tie with Jason Kipnis (and recently released Mark Reynolds ) for the team lead. Entering Monday's game in Anaheim, Raburn ranked 11th on Cleveland's roster in at-bats.
Through 71 games this season, Raburn has posted a slash line of .272/.366/.574 in 195 at-bats for the Indians, who signed him to a Minor League contract over the winter.
Among the 566 Major Leaguers with 200 or fewer at-bats this season, Raburn's 15 home runs rank first. To frame it another way, consider that there are 73 players in baseball who have launched at least 15 homers this season. Among that group, Raburn has the fewest at-bats. Even if that sample is expanded to the 121 players with at least 11 homers, Raburn still ranks last in at-bats.
Raburn headed into Monday's action averaging one home run per 13 at-bats on average. Only Baltimore's Chris Davis (9.9) and Detroit's Miguel Cabrera (11.1) ranked better among Major Leaguers with at least 200 plate appearances this season. There are 301 Major Leaguers on that list.
"I think confidence plays a big role in it," Francona said. "And he maintains a really good routine whether he plays or not. He's pretty much had the same swing almost all year. There's been a couple games where's he's gotten a little long, but he's really maintained his swing all year long. That's not an easy thing to do, especially when you're a bench player.
"It's exciting. There's not too many [bench] guys you can play where he comes in a game and we've hit him cleanup, or we've hit him fifth. ... The power, for the amount he's played, that's a lot."
Jordan Bastian is a reporter for MLB.com. Read his blog, Major League Bastian, and follow him on Twitter @MLBastian. This story was not subject to the approval of Major League Baseball or its clubs.