Raburn doing everything to avoid DL stint
Raburn doing everything to avoid DL stint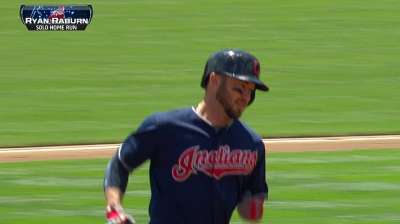 CLEVELAND -- Ryan Raburn says his legs have felt beat up for most of this season. When the utility man launched a home run against the A's on Sunday, the issue worsened, and now he is doing all he can to avoid a trip to the disabled list.
Raburn was out of the starting lineup for Cleveland for the 13th time in the past 16 games on Saturday due to a right calf injury. During his second-inning homer nearly a week ago, he also felt pain flare in his left foot and Achilles tendon. He underwent an MRI exam on Saturday and the results showed inflammation, but no structural damage.
"I don't even think [going on the DL] is a possibility, to be honest," Raburn said. "Yeah, we've thought about it. That's why we had to get the MRI. Me, personally, I can probably play through a lot of this stuff, but if it sets me back again, I just don't want to put the team in a bad spot.
"[The DL] is the last resort. I'm hoping, worst-case scenario, I can be ready for Tuesday."
The Indians have an off-day on Monday before opening a three-game road series with the Braves on Tuesday.
Raburn said he has not done any hitting since going 1-for-4 with the homer on Sunday in Oakland, but he planned on doing some light running on a treadmill on Saturday. Over the past six days, he has had discomfort while simply walking, though he has offered to come off the bench as a pinch-hitter if needed.
"It's kind of day to day," said Raburn, who is tied for the team lead with 15 home runs. "It's feeling better today, so we're going to try to kind of boost the activities up, and try to get it back to where I can get out there and perform."
If Raburn does go on the disabled list, it would be retroactive to Sunday, meaning he would be eligible for activation by Sept. 3. On Sept. 1, Major League Baseball rosters expand to 40 players, giving clubs a chance to add reinforcements. While Raburn is active and on the bench, Indians manager Terry Francona said he can also use a couple pitchers as pinch-runners in an emergency.
"What happened," Francona said, "is he had the calf [injury] going and maybe because he overcompensated, the other heel was bothering him. So, we got it scanned and it came back clean, which is good. Now, we go completely on symptoms."
Jordan Bastian is a reporter for MLB.com. Read his blog, Major League Bastian, and follow him on Twitter @MLBastian. This story was not subject to the approval of Major League Baseball or its clubs.