Tribe keeps close count on Salazar's pitches
Tribe keeps close count on Salazar's pitches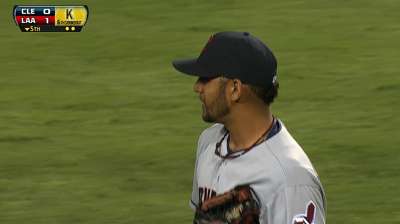 ATLANTA -- When it comes to handling the workload of pitcher Danny Salazar, Indians manager Terry Francona is taking it start by start.
During Tuesday's 2-0 loss to the Braves, Francona lifted Salazar after four innings and 77 pitches, sticking with a similar pitch count as the right-hander's previous two appearances. Francona noted that he and general manager Chris Antonetti, along with pitching coach Mickey Callaway, discuss the situation frequently.
"We've pretty much talked it over every start with Chris and Mickey," Francona said on Wednesday. "We kind of set some, not parameters, but ... we're trying to keep him from reaching back in his last inning of work. That's one of the goals."
Francona said each outing has been different.
On Aug. 7, Salazar threw a season-high 103 pitches in a loss to the Tigers, but he had been performing at a high level and only logged 52 pitches in his previous outing in the Minor Leagues. Due to the high stress level of the start against Detroit, Francona limited the pitcher to 71 pitches in four innings against the Twins on Aug. 12.
In Anaheim on Aug. 20, Salazar was pulled at 75 pitches after 5 1/3 innings. Francona's reasoning was that the Angels had their Nos. 4-6 hitters coming up with the Halos clinging to a 1-0 lead. Francona's explanation for his handling of Salazar on Tuesday night was that the pitcher had logged a couple of long innings in the tightly-contested game in Atlanta.
"Every start," Francona said. "There's been a reason to take him out."
The Indians are being cautious with the 23-year-old Salazar, because he is three seasons removed from Tommy John surgery on his right elbow and he has already worked a career-high 120 innings. This season, Salazar averaged 70 pitches per game (15.8 per inning) in 21 Minor League outings compared to 83 pitches per game (15.4 per inning) in five starts in the Majors.
"I've explained it to him, too. He understands," Francona said. "I went up to him [Tuesday], because it was 2-0. I said, 'A year from now, you'll be fighting through this game and trying to win.' I said, 'Right now, we need to take care of this.' He understands."
Jordan Bastian is a reporter for MLB.com. Read his blog, Major League Bastian, and follow him on Twitter @MLBastian. This story was not subject to the approval of Major League Baseball or its clubs.