Chisenhall hopes pinch-hit homer ends slump
Chisenhall hopes pinch-hit homer ends slump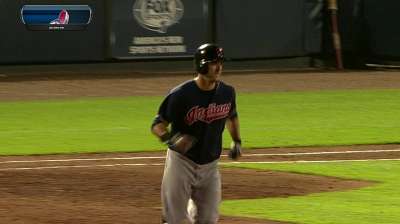 DETROIT -- Lonnie Chisenhall is hoping Thursday's pinch-hit home run will mark the end of his slump. He was back in the Indians' starting lineup Friday against the Tigers after coming off the bench the last three games.
"I feel like I've been taking good swings," Chisenhall said. "I had three pinch-hit [at-bats] in Atlanta, and fortunately I had a home run in one of them. It's definitely a confidence booster and encourages the work I'm doing."
During Chisenhall's slump, manager Terry Francona split his playing time at third base with Mike Aviles. In a 27-game stint at Triple-A Columbus earlier this season, Chisenhall flashed his potential, hitting .390 with 16 extra-base hits and 26 RBIs.
Chisenhall was 7-for-55 (.127) with one homer and three RBIs in August before his eighth-inning solo blast in Thursday's loss to the Braves. Chisenhall said he watched video of his swing from 2011 and '12 with hitting coach Ty Van Burkleo to try to find holes in his swing.
"Just cleaning up my mechanics," Chisenhall said. "I had gotten some kinks in my swing that normally weren't there. I had a clean swing in Spring Training, then I struggled and I changed. I'm going back to cleaning it up. Keeping it simple, getting ready on time, and getting the barrel on the ball."
Bobby Nightengale is an associate reporter for MLB.com. This story was not subject to the approval of Major League Baseball or its clubs.