Brantley ranks among leaders in outfield assists
Brantley ranks among leaders in outfield assists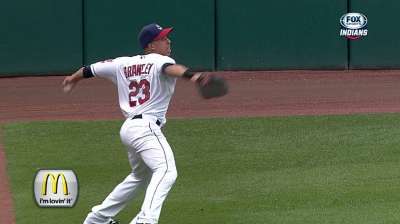 DETROIT -- Left fielder Michael Brantley caught Alex Avila between second and third base in the seventh inning Friday for his 11th outfield assist of the season, the second highest total in the Majors.
Brantley trails only Kansas City's Alex Gordon, who has 14 assists. Brantley had five assists each of the past two seasons, and wasn't quite sure why his total jumped this season.
"I don't know. I just know I want to make sure I take advantage of every opportunity to get to throw out somebody," Brantley said. "There's more that goes into it. Obviously, you have your infielders catching the ball, making great tags, and being in the right position at the right time."
Though Brantley has thrown out only four runners at Progressive Field this season, he credits his home park for giving him some extra opportunities.
"I think it's more of the opportunity. Just playing left field at home," Brantley said. "When they hit hard doubles off the wall, you have a chance to get a good hop and just make a good throw to second, and you have a chance. I just try to take advantage of every chance and opportunity I get."
Bobby Nightengale is an associate reporter for MLB.com. This story was not subject to the approval of Major League Baseball or its clubs.